Former House Energy and Commerce Committee Chairman Billy Tauzin has some advice for Republicans who want Medicare beneficiaries to pick up part of the tab for home health services:  It won't work.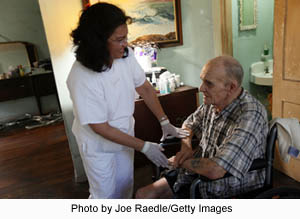 "[Home health] is not an elective thing. You get assigned to it by your doctor. You have to have it or otherwise you're in the hospital or a nursing home," says Tauzin, former head of Pharmaceutical  Research and Manufacturers of America who is now a senior adviser to the Partnership for Quality Home Healthcare, a coalition of home health care providers.
While Medicare imposed a co-pay for home health in 1965, Congress repealed it in 1972 because "it was counter-productive," he said.  Seniors who couldn't afford the co-pay didn't get home health care, became sicker and cost Medicare more, he said.
A list of potential Medicare and Medicaid payment changes discussed as part of the ongoing debt ceiling talks included instituting cost sharing for home health services in Medicare.  The Medicare Payment Advisory Commission also has recommended a home health co-pay and the Congressional Budget Office said that taking that step would raise $47 billion over a decade.
Tauzin says that 60 percent of those payments would fall on the nation's poorest and sickest seniors. "You're going to put a sick tax on them that's going to encourage them not to use the cheapest, most efficient health care available to them," Tauzin said in an interview. "They end up in emergency rooms. … Rehospitalizations go up, you end up with a lot more nursing home care."
Tauzin doesn't buy the argument that beneficiaries must share in the cost of Medicare services to keep the program solvent for future generations. "You go ask a senior veteran whether he's already put skin in the game. You go ask grandmas and grandpas who build this country … whether they have skin in this game already. They've been paying into this system all of their lives. You've got a debt so you want to tax the oldest and the sickest in our country?"  A better approach, the home health alliance says, would be to pursue waste, fraud and abuse in the program.
Tauzin also has some advice for his former colleagues as they debate ways to raise the federal debt ceiling.
"We all went to college right? When did you do your term paper? We all started a week out but we really didn't do it until the night before. And you probably had to be real careful about staying sober that night. That's where they are right now," he said. "They're bouncing around and they're posturing and the bottom line is they're going to get something done."