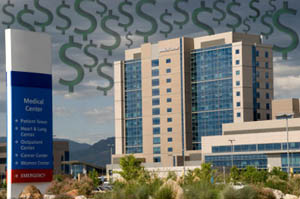 New government data identify which hospitals' patients cost Medicare the most.  Below are the 10 hospitals whose patients cost Medicare the most–both during their stays and for all services in the month afterward.
All hospitals are general medical and surgical hospitals unless noted otherwise. Medicare calculates a hospital rate as a ratio to the national median, which was $17,988 for the period analyzed (May 2010 through Feburary 2011). Kaiser Health News translated the hospital ratio into a dollar figure.
1. Allegiance Hospital of Midland-Permian Basin (Midland, Texas): $30,939 (1.72) [acute long-care hospital]
2. Harmon Medical and Rehabilitation Hospital (Las Vegas, Nev.): $28,601 (1.59) [rehabilitation hospital]
3. Southwestern Regional Medical Center (Tulsa, Okla.): $27,702 (1.54)
4. East Valley Hospital Medical Center (Glendora, Calif.): $26,802 (1.49)
5. Los Angeles Metropolitan Medical Center (Los Angeles, Calif.): $25,903 (1.44)
6. Cancer Treatment Centers of America (Philadelphia):$25,723 (1.43) [acute long-term care]
6. Rothman Specialty Hospital (Bensalem, Penn.): $25,723 (1.43) [surgical hospital]
8. Hollywood Community Hospital of Hollywood (Hollywood, Calif.): $24,644 (1.37)
8. Los Angeles Community Hospital (Los Angeles, Calif.): $24,644 (1.37)
8. Silver Lake Medical Center (Los Angeles, Calif.): $24,644 (1.37)
The Medicare data show a variation in spending even among similar types of hospitals, such as major teaching hospitals. Patients of Garden City Hospital in Garden City, Mich., Monmouth Medical Center in Long Branch, N.J. and Mount Sinai Medical Center of Miami Beach, Fla., all cost Medicare $20,506, 14 percent above the national median. At the other end of the spectrum, patients of the Kaiser Foundation Hospital of San Francisco  cost $13,491, 25 percent below the national median. (Kaiser Health News has no connection with Kaiser Permanente.)
You can search KHN's interactive charts for individual hospitals, sortable by name, location or cost, or look at how hospitals in each state average out.