For Judy Ariba, one of the most harrowing moments in her battle against a rare form of leukemia occurred after she had already endured a long hospital stay and grueling chemotherapy: Her bill for a prescription cancer drug jumped from $10 to $1,700 a month.
"No one has $1,700 a month," said Ariba, 63, of Siloam Springs, Ark. "I sat here and cried for a while, thinking 'I've gone through all this, and now I will get sicker and die.'"
Ariba's drug costs soared because her former employer, a Florida-based construction firm, switched to a new health plan that required her to shoulder 25 percent of the $6,800 monthly cost of Tretinoin, a drug for acute promyelocytic leukemia.
Ariba was caught in one of the most difficult issues facing employers and consumers who pay for health insurance: How to deal with an increasing number of expensive "specialty" drugs for conditions ranging from cancer to multiple sclerosis.
The drugs offer hope for curing or managing diseases, but carry hefty price tags. Employers' spending on specialty drugs, for example, is rising by double digits each year.
To try to control spending, some employers are requiring patients to pay a percentage of the cost of specialty drugs — from 25 percent to 33 percent or more — rather than a flat dollar co-payment. Surveys show that 13 percent to 17 percent of employers have added a specialty category to their drug benefits, and more are likely to adopt them, given that more than 600 specialty drugs are in development.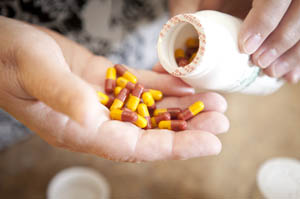 The idea of paying differing amounts for types of prescription drugs is not new. Employers and insurers have long used "tiers" to set the amounts patients pay for generic drugs, brand-name products and "non-preferred" brand-name drugs. Such policies have helped increase the use of generic drugs and steered patients to the branded products on which insurers receive the largest discounts.
But specialty tiers didn't catch on until the Medicare prescription drug program, which began in 2006, allowed them for certain costly drugs. Now, about 85 percent of Medicare drug plans include such tiers, according to consulting firm Avalere Health in Washington.
If more employers embrace specialty tiers, with their higher patient costs, "that would be a disaster," says Amy Melnick of the Arthritis Foundation.
Differing views
The practice of using specialty tiers divides benefit consulting firms. While some say that requiring higher patient payments is a useful tool to control drug spending, others warn their employer clients that the approach could discourage workers from taking needed medications.
If patients skimp on expensive drugs, "it can render the drug ineffective," says Lisa Zeitel, a senior vice president with Aon Hewitt, a benefits consulting firm. Then the employer has "thrown a lot of money down the drain," she says.
The controversy has prompted lawmakers in about a dozen states to propose barring or restricting specialty drug tiers. The issue is getting attention at the national level, too: Federal officials will have to decide whether to allow such specialty pricing in the "essential benefit packages" that all insurance sold through new online marketplaces called exchanges will be required to offer starting in 2014.
Depending on the insurer, dozens to hundreds of medications are considered specialty drugs — either because of the way they're made, their costs or both. Some of the drugs are liquid and are injected, while others are in pill form. Many cost more than $2,000 a month.
Often called "biologics," specialty drugs are used by only a small percentage of patients. But they represent the fastest-growing category of spending by employers on prescription drugs, according to several recent studies, because of their high cost. Some insurance plans set an upper annual cap on how much patients have to pay out of pocket for such medications, while others leave the policyholder exposed to unlimited costs.
Already, five drugs in this category — Humira, Enbrel and Remicade for forms of arthritis and Avastin and Rituxan for cancer — are among the top 10 selling drugs worldwide by revenue, according to data from Medco, a company that runs pharmacy benefit programs for employers and insurers. Worldwide, the five drugs accounted for $29 billion in sales in 2009.
The drugs are helping to replace revenue expected to be lost as more traditional drugs lose their patent protection and go generic, which causes prices to fall dramatically.
"These are high-margin, long-term (use) drugs," says David Dross, a consultant with benefits firm Mercer. "That's the jackpot for drugmakers."
Robert Zirkelbach, spokesman for America's Health Insurance Plans, the industry's lobbying group, says the specialty charges are one way insurers try to keep premiums down, but blamed the real problem on drugmakers: "Why do these specialty drugs cost several hundred thousand dollars for a few years' treatment? That needs to be part of this discussion."
Drugmakers counter that such products can cost millions to produce, justifying the cost to insurers. But they don't like specialty tiers because they're worried tiers discourage use of the drugs.
"The existence of the specialty tier in America's health care system, in both the public and private sectors, can risk patients' health by restricting access to needed treatments," said Karl Uhlendorf, vice president of Pharmaceutical Research and Manufacturers of America, in a statement.
Spending on specialty drugs grew by 17 percent last year — and similar increases will occur for the foreseeable future, says Richard Faris, a vice president at Medco. Spending on specialty drugs can account for 15 percent to 25 percent of an employer's total pharmacy benefit costs, he said.
Seeing a gain
It's not just drugmakers who benefit from the specialty-drug business.
Firms such as Medco often run their own specialty pharmacies, which oversee all aspects of specialty drugs, from purchasing to making sure patients take them correctly. The specialty pharmacy business brought in $11.3 billion for Medco last year, or 17 percent of its overall revenue. Because so many new specialty drugs are expected on the market soon — and a growing number of employers are likely to want additional oversight — Medco projects that its specialty pharmacy could represent 40 percent of the firm's entire revenue by 2020.
Surveys by benefit management firms, such as Mercer, show many employers try other methods to slow spending on specialty drugs, rather than tiers. Those other steps include requiring patients to try less costly drugs first, or steering patients to designated pharmacies where they've negotiated discounts.
Employers sometimes balk at the tiers because they fear that patients might stop using the drugs or will complain to human resource departments about the cost. Some recent studies seem to bear out the utilization concern: Ten percent of patients failed to fill their initial prescription for oral cancer drugs from 2007 to 2009, according to a survey of claims for cancer patients done by Avalere. Patients who owed more than $500 at the pharmacy counter were four times more likely to not fill their prescriptions than those who owed $100 or less. The study looked at people with both employer-based insurance and those on Medicare.
The study alarmed some patient advocates.
"More and more cancer drugs are on those lists, and the cost to cancer patients is going to grow accordingly," says Stephen Finan of the American Cancer Society Cancer Action Network.
His group and others want limits on how much patients have to pay toward their drugs.
Because no one yet knows what the federal government will require in the essential benefits that must be offered by insurers in 2014, the groups are turning their lobbying to state legislatures, where more than a dozen considered measures aimed at regulating specialty drug payments by patients.
New York has essentially barred insurers from charging patients a percentage of the drug's cost. Delaware lawmakers put in place a one-year ban on the practice while it is studied further. Meanwhile, proposals to bar or restrict specialty tiers have been introduced in California, Maryland, South Carolina, Massachusetts and several other states. None has passed.
A struggle continues
After calling a patient advocacy group in search of financial help, Ariba was referred to a pharmacy program that said it would pick up her entire share of the cost of the drugs.
Before she could fill her first prescription, the program informed her that her insurer had given them incorrect information and that she would actually have to pay $400 a month toward the medication she must take from now until April.
Ariba, who says she lives on about $1,200 a month in Social Security disability payments and some savings, is devastated.
She already pays more than $600 a month to keep her insurance under a plan offered by her former employer, having quit her job in September while undergoing five-day-a-week chemotherapy.
"I'll probably have to go that route and pay the $400," she says. "I have a little money put aside, but it will wipe me out. It's very frustrating. I have resorted to begging people, saying 'Can you help me?'"