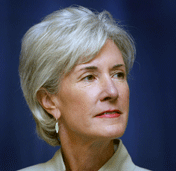 KATHLEEN SEBELIUS
SECRETARY, HEALTH AND HUMAN SERVICES
Date of Birth: May 15, 1948.
Education: B.A., Trinity College; M.P.A., University of Kansas.
Career Path: Sebelius served in the Kansas House of Representatives from 1986 to 1994, then became the state insurance commissioner. A Democrat, Sebelius was elected governor for two terms in the heavily Republican state. President Obama chose her to run HHS in 2009 after former Senate Majority Leader Tom Daschle withdrew.
Role in Health Care Reform, 1993-1994: None.
Why She's a Player Now: Sebelius is in charge of the largest federal health agency. Her Kansas experience gives her expertise in insurance and state health policy issues. As one of the top health officials in the administration, she'll work closely with the White House, and especially Nancy-Ann DeParle, director of the White House Office of Health Reform, to sell the administration's views to Congress and the public. And she'll be front-and-center in handling changes proposed for Medicare and Medicaid–either as part of health overhaul legislation or in separate bills.
Quote: "I share [the President's] belief that we can't fix the economy without fixing health careThe work won't be easy, but bringing about real change rarely is." (Washington Post, March 3, 2009)   "I think that there are enormous assets in the Department of Health and Human Services, which need to be the building blocks for health reform. So, as we talk about ways that we begin to reform the system, we can do a lot of reforming within the Department of HHS.  Driving toward quality, prevention issues, implementing health IT, rolling out the CHIP program, making sure that the building blocks of Medicare and Medicaid are as efficient and effective and have the best health outcomes possible — all of that can be done without any legislative approach, because the assets and the resources are there." (Senate confirmation hearing, April 2, 2009)
Read about the other 'Players'.