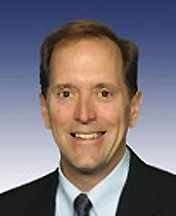 REP. DAVID CAMP, R-MICH.
RANKING MEMBER, HOUSE WAYS AND MEANS COMMITTEE
Date of Birth: July 9, 1953.
Education: B.A., Albion College; J.D., University of San Diego.
Career Path: Camp worked as a lawyer and staff member for former Michigan Rep. Bill Schuette and served in the Michigan State House before his election to the U.S. House in 1990.
Role in Health Care Reform, 1993-1994: None.
Why He's a Player Now: Camp, as ranking member of the House Ways and Means Committee and part of the GOP health care reform task force, will show a willingness to negotiate but oppose any bill that greatly increases the government's role.
Quote: "I think there is broad agreement on the principles of any successful health reform: lowering costs, increasing access, ensuring portability, and prevention and wellness, among others let's work together to make sure health care remains a benefit provided by employers while driving down the high costs of care that every American faces." (Camp's Congressional Web site, March 11, 2009)
Read about the other 'Players'.