She bought a potted plant, but if Health and Human Services Secretary Kathleen Sebelius thought it would be enough to persuade the operators of her local hardware store to support new insurance regulations, it didn't happen.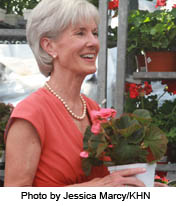 Sebelius and her top deputies came to Frager's Hardware Store near Capitol Hill to unveil proposed rules on insurance exchanges, online marketplaces where individuals and small businesses will be able to buy health coverage beginning in 2014. Sebelius shops at Frager's, which has been in business 90 years and offers health coverage to their 25 full time employees. The coverage has been getting more expensive, however, and Frager's operators apparently aren't yet counting on relief from the federal health law – they didn't endorse the law or the exchanges created by it.
Nick Kaplanis, the store manager, said little when Sebelius asked him to say a few words. He did ask if she could get President Barack Obama to visit next time. She said she would.
John Weintraub, a co-owner who was not at Monday's event, on Friday told KHN that he was skeptical of the new law: "I am not confident at all that Obamacare will lower my costs," he said. "It seems like whenever the government does get involved in something like this, it never works out."
Weintraub said he believes his store was selected as the site of the announcement because some HHS staff are customers. The store was used by President George W. Bush in 2006 to plug the strength of the economy. While there, Bush picked up a couple of chew toys for his dog, Barney.
At the garden center of the store, Sebelius bought a geranium, which if nothing else complemented her coral dress.