Can't get enough Kaiser Health News?  Now there's a new way to take KHN with you everywhere you go.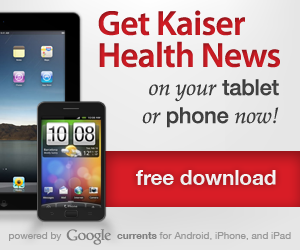 KHN is available on Google Currents, a mobile news app for smartphones and tablets.  It works on any iPhone or Android phone, plus any iPad or Android tablet.
The Google Currents edition of Kaiser Health News includes all of your favorite features, including:
KHN's original reporting.
The daily news summaries in the Daily Health Policy Report.
The KHN Capsules blog.
Video from KHN.
To load Google Currents on your mobile device — or to add Kaiser Health News to your existing Google Currents reader — open the following link on your phone or tablet:
http://www.google.com/producer/editions/CAowgfos/kaiser_health_news
Let us know how you like it, and please share it with your friends.