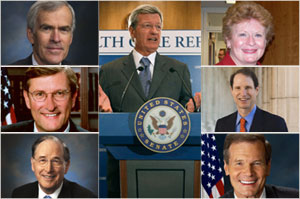 UPDATED, 5:03 p.m. – The Finance Committee today thwarted efforts by liberal Democrats to include a government-run health insurance option in major health care legislation, as the Senate appears to be dividing into three important camps: those who are solidly behind Chairman Max Baucus, those reluctantly leaning in his direction and a handful of wild cards who will wield great influence.
After a lengthy morning debate over what is emerging as one of the most contentious issues in the health care debate, the committee voted to reject two separate proposals, by Sens. John D. (Jay) Rockefeller IV, D-W.Va., and Charles Schumer, D-N.Y., to add a public option to the legislation.
On the first roll call vote, Baucus and four other Democrats – Thomas Carper of Delaware, Kent Conrad of North Dakota, Blanche Lincoln of Arkansas and Bill Nelson of Florida – sided with 10 Republicans to kill the Rockefeller measure. Schumer's proposal later went down by a 13 to 10 margin. President Obama and liberal Democratic House and Senate leaders support a public option as a means of sparking competition within the insurance industry and expanding coverage to many uninsured Americans, but Republicans and many moderate Democrats oppose that approach, and Baucus has concluded it would be impossible to pass a bill in the Senate that includes a public option.
The Finance chairman is hoping the panel will wrap up work on the health bill this week. But to get the votes he needs, he's sure to have to make more concessions, both in committee and on the floor, without alienating backers he already has.
For example, to appease committee Democrats with close ties to labor, the Montana Democrat might have to raise the dollar value of high-cost health care plans subject to an excise tax. To keep moderate Democrats, he will have to keep the size of the package to $900 billion over the next decade. That might make it trickier to assuage Democrats who want to include more generous subsidies to help lower-income people.
While the Finance committee has rejected the public insurance option, Schumer and Rockefeller have vowed to carry the fight to the floor. "We are going to keep at this and at this and at this until we succeed, because we believe in it so strongly," Schumer said today. At the same time, a dozen or so centrist Democrats will surely raise concerns about the plan's cost. While few, if any, Republicans are expected to support the bill, Baucus continues to press for bipartisan support.
"The central challenge is making the pieces of health reform fit together so that at the end of the day, we contain costs and all Americans get quality, affordable coverage," said Finance member Ron Wyden, D-Ore. "If you don't do that, what happens is you have this collection of various changes – nearly always ratified by powerful interest groups — that at the end of the day don't really significantly contain costs or reform health care. It's all about fitting the pieces together."
SOLIDLY WITH BAUCUS
The Democrats hold a 13 to 10 advantage over the Republicans on the Finance committee. Among the Democrats, those considered solidly behind Baucus' plan are Jeff Bingaman of New Mexico, John Kerry of Massachusetts, Conrad of North Dakota, Maria Cantwell of Washington and Robert Menendez of New Jersey.
Two of these Democrats were part of the so-called "Gang of Six," a group of three Democrats and three Republicans on the Finance committee handpicked by Baucus that held 61 meetings to draft the bill, which would require most people to buy insurance and create exchanges where individuals could purchase coverage. The bill also would provide subsidies to help people purchase health insurance. And it would expand Medicaid, the federal-state health insurance program for the poor and disabled.
While these senators have offered amendments to the bill – Kerry, for example, wants to toughen the provisions that would allow insurers to charge different rates based on age – they have appeared loyal to Baucus' plan and are expected to be solid "yes" votes when the final tally is called.
This block could represent a significant number of votes when the Finance package hits the floor, with debate expected to begin later this month. Once the bill is melded with legislation passes by the Health, Education, Labor and Pensions Committee, which includes a government-run public plan option and a mandate that insurers provide coverage, Senate Democratic leaders such as Majority Leader Harry Reid of Nevada and Senate health committee chairman Tom Harkin of Iowa would likely embrace the bill and push for its passage.
LEANING STRONGLY TOWARD BAUCUS BUT DEMANDING CHANGES
Three other Democratic senators – Rockefeller, Schumer and Debbie Stabenow of Michigan have made tough demands on Baucus.
For example, Rockefeller and Stabenow opposed provisions in Baucus' original plan that would have taxed the insurance plans of many unionized workers in their states. Stabenow also has expressed concerns that any overhaul plan must guarantee that health insurance is affordable for middle-income workers.
Rockefeller and Schumer believe that the current bill, which sets up non-profit insurance cooperatives, would be inadequate to force private insurers to bring down their premiums and change discriminatory practices. While they have failed to add a public plan to the bill in committee, Rockefeller and Schumer, as well as Stabenow, are expected to be with Baucus when the final roll call vote is called. Like other Democrats who would have drafted a different bill than the Baucus plan, they nevertheless think the legislation has the best chance of passing the Senate. They don't want to allow the opportunity to pass health care overhaul legislation to slip away as it did for former President Bill Clinton and Democrats in 1994.
Finance moderate Carper of Delaware is also expected to be with Baucus in the end but might push for changes in the bill. In a sign of loyalty to Baucus as well as pharmaceutical manufacturers in his home state, Carper voted with Baucus to defeat an amendment that would have weakened a deal struck by Baucus, the White House and the drug industry on the industry's financial contribution to the cost of a health care overhaul.
WILD CARDS
Still another Finance group that Baucus must corral is the "wild card" Democrats who, due to an array of pressures, have not yet come to the Baucus camp.
They include Wyden of Oregon, who has warned that he might not vote for the Finance bill unless it is beefed up to promote more competition among insurers and to provide more affordable insurance to many Americans. Wyden's bill that would make major changes to the nation's system of employer-sponsored insurance has some Republican co-sponsors but has made little impact on the overall health care debate.
Bill Nelson is another lawmaker whose support for the Finance package is unclear. The Florida Democrat has failed in his attempts to amend the bill to protect some Medicare Advantage beneficiaries from the cuts slated for private health insurers in Medicare. He also pushed unsuccessfully for larger discounts on drugs to Medicare beneficiaries than those in the deal negotiated earlier this year by Baucus, the White House and the drug industry.
Political analysts put Blanche Lincoln, a conservative Democrat from Arkansas, in the wild-card category although she has been complimentary of the Baucus plan and is expected to support it. The reason: she is facing a tough reelection campaign. So far, she has carefully navigated the committee votes, generally siding with her party but a few times casting her lot with the Republicans.
She went along with conservative Republican Jim Bunning of Kentucky and other Republicans in seeking an amendment that would have required that the complete legislative language of the bill as well as its financial cost be posted on the Finance Committee Web site for 72 hours before a final vote. Baucus complained that the amendment as crafted would have delayed a final vote by as much as two weeks, and it failed.
Expect the wild-card crowd to grow on the Senate floor, with Democratic moderates such as Evan Bayh of Indiana, Nelson of Nebraska and Mary Landrieu of Louisiana.
While most Finance Republicans are not expected to vote for the final bill, Baucus and Obama continue to court Maine Republican Olympia Snowe, who has said she still has a number of concerns about the bill, ranging from the mandate that individuals purchase health insurance to the question of affordability and the measure's final cost. Snowe's proposal to trigger the public health insurance option only if coverage is not affordable to 95 percent of a state's residents is likely to get more attention when a bill goes to the floor.