Overuse of some medical treatments – and underuse of others, when patients fail to get recommended care — are two factors linked to high medical spending in the United States.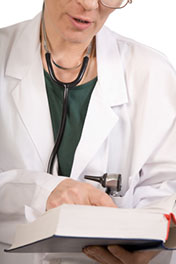 But efforts to set "best practice guidelines" have often drawn criticism from physicians and patients as "cookbook medicine" that could limit doctors' autonomy or restrict care for patients whose conditions fall outside the norm.
Now, though, Boston Children's Hospital says it has found a way to create guidelines that have reduced costs and variation in care while improving patient outcomes – all without angering doctors.
Called SCAMPS,  the program aims to standardize care for a variety of medical conditions – all while allowing its guidelines to evolve as new information is collected and analyzed, according to a paper published Monday in the journal Health Affairs.
"We're creating living guidelines in a way that we can gather information and learn from every encounter," said Dr. Michael Farias, a resident in pediatrics at the hospital and one of the program's developers.
Results have included:
— A 27 percent drop in the cost of caring for children with six different kinds of cardiovascular problems.
— A rise in the rate of "ideal" outcomes for children with a congenital narrowing of the aortic valve from 40 percent to 69 percent during a one-year period, while "inadequate" outcomes for those patients dropped from 30 percent to 9 percent. Ideal was defined as a low likelihood of needing a valve replacement.
— An increase in the rate of doctors who complied with recommended specialist referrals, from 20 percent to 75 percent.
Instead of setting rigid guidelines for doctors based mainly on reviews of existing medical studies, the program is more flexible. Physicians and nurses develop the guidelines, which are voluntary. Data is collected for each patient who goes through the program, which now covers 49 different conditions. That allows the hospital to make changes as new information becomes available and include patient experiences and reactions that might otherwise fall outside the average.
Standardized Clinical Assessment and Management Plans (SCAMPS) can be applied to almost any medical condition, the paper said.  About 20 hospitals, including those treating adults, are also starting to use the protocol.
Sometimes, the guidelines result in fewer medical interventions.  Researchers found, for example, that doing cardiac imaging exams routinely at age 12 on every child who had one particular type of surgery was unnecessary. Instead, a review of cases found that it was the high-risk patients who benefited from the imaging, so the guidelines were changed to reflect that.
Conversely, children complaining of chest pain while exercising are now routinely recommended to have an echocardiogram picture of the heart because that type of pain is more likely associated with a cardiac problem than pain that occurs when a child is at rest.
"It's not all about reducing resource use, it's about optimizing it," Farias said.