Lunch is a dangerous time of day for Lawrence DiCarmo. The 79-year-old former brick layer takes his midday meal in a small side room under the watchful eye of a nurse at Napa Valley Adult Day Services in Napa, Calif.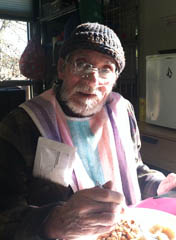 "He has swallowing difficulties," says program director Celine Regalia, "that put him at higher risk, so that's why he's in this specialty group."
Because of those difficulties, DiCarmo will continue to qualify for adult day health care services under new, stricter guidelines the state agreed to in November, Regalia says.
Adult day health care centers in California came close to elimination after lawmakers in the Golden State voted to cut all Medicaid funding for the centers in order to save about $85 million. Advocacy groups quickly sued to stop the cuts in federal court, arguing that the centers, which offer services such as health care, physical therapy, mental health treatment, shared meals and exercise, help keep some 35,000 frail seniors and disabled people out of costly nursing homes.
The groups reached a last minute legal settlement with the state that is meant to keep a scaled-down program in place for those who need it the most. Under the settlement, the state will continue to pay for the services through its Medicaid program but only for those who have severe illnesses, disabilities or dementia.
Listen to audio of the story
Listen to Sarah Varney's report on adult day care in California:
To determine who will qualify under the tighter eligibility rules, two hundred state nurses have fanned out to centers around California to review patient records. The state has guaranteed services to more than 9,000 Californians. The remaining 26,000 will be evaluated face-to-face by the nurses.
Napa Valley Adult Day Services will be one of the first sites to be assessed. The center opens its doors five days a week to about 100 elderly and disabled people who come from Napa and neighboring counties. Most of the clients are eligible for both Medicare and Medicaid; a minority of the clients pay for the service out-of-pocket.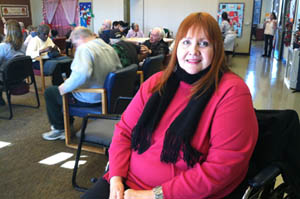 At lunchtime just before the Christmas holiday, dozens of men and women, many in wheelchairs, sat patiently waiting for their plates of sliced beef and mashed potatoes. There was not a lot of chatter. About half of the people here have some form of dementia.
Even though DiCarmo uses a wheelchair and an oxygen tank, it's not hard to imagine him in his younger years when he was a hard-working brick layer in Los Angeles. It's a life he doesn't remember, though, he says in a halting, gravelly voice. DiCarmo was in a horrific car accident years ago that left him with a traumatic brain injury. "Any of my working time is all gone," he says.
Every weekday morning, a van picks up DiCarmo and brings him here to the center. He says he likes the exercises and the music and when he's not here he sits at home, bored and watching television. DiCarmo, like many frail elderly people, frequently gets pneumonia, and before he started coming to the center, he often ended up in the hospital. "I don't enjoy it," he says. "There's no pleasure in the hospital that you get. Besides their food is worse. Terrible."
A trip to the hospital can be traumatic and expensive says Karen Proteau, a registered nurse who works at Napa Valley Adult Day Services. Now, she watches DiCarmo closely for any sign of respiratory infection. "We have been able with the close nursing monitoring to keep him out of the hospital quite often," Proteau says. "We're able to catch the symptoms early and notify his doctor and get antibiotics started a lot sooner."
State health officials have estimated that about half of the 35,000 participants will qualify under the new rules, which are meant to control Medicaid costs. But if the Napa center is any indication, it might be much harder to achieve any savings. Regalia says she has already compared her patients against the new eligibility standards to get a sense of what the state nurses might find. "We screened all of our people and we found one person that wasn't eligible. Everybody else qualified for the program."
As president of the state association that represents adult day centers, Regalia has been in frequent contact with other center directors. She says they too believe most of their current participants are frail or disabled enough to qualify under the stricter standards. It's hard to say whether the state nurses will agree with those initial assessments. But if the nurses do agree, the state will be obligated to continue funding the program, and it's unclear how the state will achieve any savings.
What is clear, though, is the toll the uncertainty over the program's fate has taken on those who depend on it to maintain their independence.
Martha Norris lives at home in Napa Valley and comes to the center twice a week. At age 62, she has shiny red hair and soft skin. But her deteriorating spine and severe arthritis have left her in a wheelchair. She also suffers from depression, which is a big threat for the disabled and frail seniors.
Norris says the social activities here, like the local band that on this day is playing a festive rendition of Frosty the Snowman and Rudolph the Red Nosed Reindeer, help keep her from turning inward.
When the program looked like it would be eliminated entirely, Norris says, "I just felt really lost. And I wasn't sleeping for the longest while. I was really stressed. I didn't know what was up or down."
This article was produced by Kaiser Health News with support from The SCAN Foundation.