One year after John Castellani took control of PhRMA, the former manufacturing executive has steered the drugmakers' lobbying group to be ready for battle with the White House.
Gone are the days where the Pharmaceutical Research and Manufacturers of America, is making deals with a Democratic White House and spending $101 million on advertising to promote the new health law. That was the successful strategy of PhRMA's previous leader, former Rep. Billy Tauzin, R-La. to ward off new regulations for the industry in the law. Now PhRMA has signaled that it will fight any attempt by congressional Democrats or the White House in the current deficit reduction talks to save money by cutting drug spending in government programs.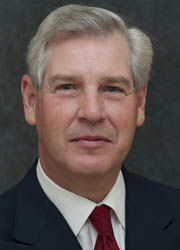 In a hastily scheduled press conference this week, Castellani made it clear that PhRMA opposes a Democratic proposal that would require drugmakers to pay rebates to the Medicare program for beneficiaries who qualify for both Medicare and Medicaid, known as the "dual eligibles." He said it would "do serious harm to the industry, serious harm to (pharmaceutical) jobs and we oppose it. We opposed it in the context of the discussions around the [health law] and we oppose it now." And if the proposal succeeds, Castellani said there "would be the risk" that drug companies would begin to move their operations to countries outside the U.S.
Still, Castellani says the industry doesn't regret supporting the health law because he says it "was the right decision under the political context at the time," although his group would like to see some changes in the law.
Castellani recently spoke with Kaiser Health News' Bara Vaida. Here is an edited excerpt:
Q. PhRMA made a $80 billion to $100 billion deal with the Obama administration during the health reform debate to stave off more regulations, angering many of your Republican allies in Congress. Are you sorry the industry made that deal?
A. No. No. It was the right decision under the political context at the time. You had a Democratic president and a Democratic Congress and sweeping legislation that affected our industry. The decisions that were made were appropriate given the political circumstances.
Q. How much was the final deal? $80 billion or $100 billion? What number is right?
A. I can't comment given the nature of how [the Medicare rebate] affects individual companies.
Q. You have said you would like to see the Independent Payment Advisory Board (IPAB) in the health law repealed. What are you doing specifically to lobby on that?
A. IPAB is fundamentally flawed. It has to be repealed in its existing form or mitigated. What we have been doing is talking to other groups that are affected by it and talking to members of Congress. There is a substantial bipartisan effort to repeal [IPAB] that is almost unrelated to what we are doing about it.
Q. The president targeted the drug industry in his recent deficit reduction plan, how do you feel about that?
A. The president proposed to shorten the period of data exclusivity for biologics. It was disappointing and a bit surprising. He talked in the State of the Union speech about owning the future and investing in technology, and (his efforts on biologics) is discouraging what he wanted to encourage.
Q. What about the deficit reduction plan proposed by Rep. Paul Ryan, R-Wis. Would you support or oppose that? Do you see any dangers to the drug industry?
A. We don't know enough about it. We do think we need to have a debate about how do you fundamentally change Medicare so that it can be affordable (for the future). All ideas ought to be on the table.
Q. What are you doing to manage the drug industry's reputation with the public? People feel drug companies charge too much for their products.
A. Obviously we need to be trusted by public policymakers and by patients and by clinicians, and that is something that we are committed to doing. The problem is the delivery system by which people get medicines. [The system] is designed to disproportionately show the cost of medicine, so even though we are only about 10 percent of total health care costs, we are 40 percent of out-of-pocket expenses. That makes people think that we are the most expensive part of the health care, when in fact we may have the most value and be much less expensive than acute care. The other problem is that we haven't done a good enough a job of explaining the scientific process in how difficult and potentially rewarding it is and we need to help people understand where we fit in the economy and the kinds of jobs we produce and the kinds of value-added we provide.
Q. What about PhRMA's political reputation? Some Republicans remain angry over your support for health reform?
A. People try to portray us as Democrat or Republican. We are not. We are pro PhRMA. Lawmakers that recognize the value of PhRMA to their states and the economy and the costs of medicine are the people we support. The grumbling will always be there. There will always be someone who will find a reason why we should be doing something differently than we are going to do.
Q. You've acknowledged the industry spent about $25 million in the 2010 election cycle to get candidates elected. How much will you spend in the 2012 cycle?
A. We will support the candidates that support the industry, and I don't know who that is yet. It's too early. Really. I am not playing hide the peanut. I will tell you when I know (how much) it is.
Q. You say 75 percent of all prescriptions filled are generics rather than brand-name, what does that mean for PhRMA and the industry's business model?
A. Generics are an important part of the medicine life cycle. We produced all of them. They are our children. But if you are going to continue to innovate, you have to continue to support returns for the inordinate investment it takes to find new medicines. It is $1 billion to $1.3 billion over 10 to 12 years to develop a new medicine, so you have to have the mix of patent protections if you are going to have the rewards for that innovation. If you don't want to pay for the innovation, then you have to say to American patients, we have invented everything that we can invent. But we don't believe that. There are still discoveries out there. The problem with what the president proposed and when people say we ought to go to all generics, is generic companies don't spend money on research and development. We do.
Q. What about comparative effectiveness. PhRMA on its blog says it is a good thing, but the industry fights it.
A. Here is one of the issues that is difficult to deal with. The discovery process is an iterative one. Let's take some of the work done on HIV/AIDS. When (researchers) started out, you were talking about extending life for six months, then a year, then 18 months and then over years it turned HIV into a chronic disease. Clinicians learned, and the results got better over time. Comparative effectiveness can be good if it looks at the spectrum of the options available over a long enough period of time to know what the real value is.
Kaiser Health News reporter Mary Agnes Carey contributed to this article.