Millie Toda of Toledo, Ohio, takes cares of her husband Richard, 83, who is severely disabled from Parkinson's Disease. She's grateful that with the help of government-paid home health aides and adult day care, he's able to continue living at home rather than move to a nursing home.
Even with that aid, Toda, 75, says extra money would be a big help. She could use the cash to help replace the broken lift on the front porch so she wouldn't have to pull and push him up and down the front steps of their trailer home to get to his wheelchair.
A provision in the health care overhaul law signed by President Barack Obama last month could bring some help in the future to people like the Todas. The law establishes a voluntary, long-term care program that will provide cash to enrollees who suffer at least two limitations in daily activities, such as eating, bathing and dressing. The help could begin five years after people enroll in the program.
Supporters say the program, known as the Community Living Assistance Services and Supports (CLASS) Act, will give families greater means to care for disabled relatives. There are about 10 million Americans who need long-term care services, including 4 million under age 65.
"This will empower consumers by putting money in their hands. Then entrepreneurial organizations will come to them and ask, 'What can we do to help you?' " said Larry Minnix, president of the American Association of Homes and Services for the Aging, which lobbied for the CLASS Act.
But some business and insurance groups argue that the CLASS program won't be financially sustainable. The key is getting enough Americans to sign up for CLASS, advocates respond.
James Gelfand, senior manager of health policy at the U.S. Chamber of Commerce, which opposed the CLASS Act, doubts that participation will be adequate. Only about 5 percent of eligible employees choose to participate in employers' private long-term care insurance benefit programs and about 7 million Americans own private long-term care policies.
The CLASS program will be run by the U.S. Department of Health and Human Services (HHS). After contributing for five years, participants who are disabled and meet criteria set by HHS will be eligible for a cash benefit of at least $50 a day. There will be no screening for preexisting conditions and no lifetime benefit limit.
The CLASS cash benefit will be flexible. It can be used to pay for a home health aide, transportation, assistive technology such as wheelchairs, lifts, text telephones and sensors with alarms, adult day care, respite care to give the family caregiver a break, household modifications to accommodate the disabled person – or even to pay a family member to provide the care. Alternatively, it can be used to help pay for assisted living or a nursing home.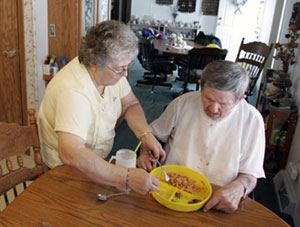 Such care, of course, can be extremely expensive. Nursing homes costs average more than $70,000 a year and home health expenses average just under $30 an hour. But Nancy King, chief operating officer of Senior Independence, a nonprofit service agency in Columbus, Ohio, said that even $50 a day — $18,250 a year — would help people trying to pay for a home health aide, adult day care, or assisted living.
HHS has to write the rules for the program, including setting the premium and benefit levels and the disability triggers for receiving benefits. That process will determine when the program can begin.
Under the law, premiums will vary based on initial enrollment age, with younger people paying less; students and people below the poverty level will pay only $5 a month. While HHS has authority to adjust premiums to keep the program financially viable, it's expected that participants will pay the same premium amount as long as they remain continuously enrolled.
In an evaluation of the proposal last fall, the nonpartisan Congressional Budget Office estimated that monthly premiums would average $123 at the start. It also projected that benefits would average $75 a day, with annual inflation adjustments. In its analysis, the CBO estimated the program would reduce net federal spending for the first 20 years – particularly because no claims would be paid in the first five years – then boost net outlays by tens of billions in subsequent decades.
Under the terms of the health law, the CLASS program has to pay for itself through premiums and cannot be subsidized by the government. Keeping the program solvent, CBO said, hinges on enrollment of healthy individuals. If fewer Americans were to sign up, and many of them were in poor health, the program would face financial trouble, the CBO concluded.
In an effort to attract healthy Americans, the CLASS Act hopes to interest employers and their workers by streamlining the sign-up and premium payments. Employers can offer workers the opportunity to pay their premiums through a payroll deduction. If an employer does that, all employees must be automatically enrolled in the program, except those who notify their employer that they want to opt out. The CBO said that this automatic enrollment feature could boost participation among healthier people.
The law also allows workers to pay premiums on their own if their employer doesn't participate or they are self-employed.
Many hope the CLASS Act will further increase public awareness of long-term care needs and boost sales of private policies to cover more expensive care like nursing homes. In a written statement, John Hancock Financial, a major seller of long-term care insurance, said the CLASS act "sends a powerful message about the importance of long-term care preparedness" that should motivate Americans. "It will not replace the need for private long-term care insurance for many Americans."