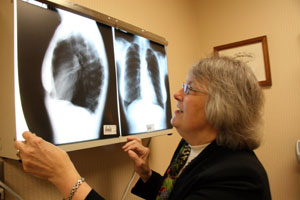 Dr. Mary Newman in her office, examining x-rays. (James M. Thresher/The Washington Post)
Until recently, the sagging economy wasn't a subject Dr. Mary Newman routinely discussed during office visits. But after a steady stream of longtime patients confided that they had been laid off, were about to lose their health insurance or that their pay had been slashed, she added the recession to her standard checklist of questions.
"It's hitting people I hadn't expected," said Newman, an internist who practices in an affluent Baltimore suburb. "If a person is in financial hardship, we help them."
From Baltimore to Boise, doctors are encountering more patients struggling to pay for care. Some doctors have responded by selectively cutting their fees or devising novel payment arrangements; others have taken a harder line on billing and are sending more overdue accounts to bill collectors.
Although professional groups such as the American College of Physicians do not specify how much charity care their members should provide, many doctors say they feel a responsibility to help strapped patients, particularly those with whom they have long-standing relationships. Some say assisting patients pays dividends in the form of loyalty, which will benefit them once the economy recovers. For others, such efforts may stem an exodus of consumers at a time elective procedures and visits to doctors' offices are down.
"You don't want people starting over with another doctor," says Dr. Alan Pocinki, a District internist who has been knocking 20 to 30 percent or more off his standard $145 office visit charge for longtime patients in financial straits.
A survey of nearly 1,100 hospitals released in April by the American Hospital Association found that 59 percent reported a moderate or significant decrease in non-emergency operations, such as knee replacements and hernia repairs. The Medical Group Management Association, which represents 22,500 medical practices across the country, has reported sharp increases in patients who fail to keep appointments and decreases in preventive-care visits in recent months.
These trends compound existing problems of rising overhead and static reimbursements. Whether the downturn will lower physicians' incomes this year remains to be seen. A survey by Sullivan, Cotter and Associates, a national firm that designs compensation plans, found that doctors' incomes increased an average of 4 percent last year, despite the souring economy.
Pocinki says he is working longer hours to maintain his income and to be able to offer discounts to existing patients experiencing financial problems. "Obviously there's only so much I can do and still pay my bills," he said.
Roughly 75 percent of his patients work for the World Bank or the federal government, and presumably have stable jobs with generous health benefits. For others not so fortunate, Pocinki has relaxed his policy of collecting the full fee at the time of the appointment. Now he tells some patients that they can pay a portion after seeing him and send him the rest later.
In the Minneapolis suburb of Edina, Dr. K. Anthony Shibley, an obstetrician-gynecologist, and his partners are offering one free visit and a Pap smear to existing patients who lose their insurance. Ten of the practice's 10,000 patients have taken advantage of the offer, said Shibley, whose staff verifies that patients have lost their coverage.
"I've gotten a letter of thanks from every single one of them," he said. "Our staff really feels good about this. They know these people."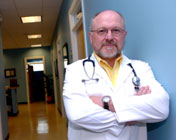 Family physician H. Lee Adkins of Fort Myers, Fla., recently launched a novel plan to counter the growing no-show rate among patients with chronic illnesses: a $75-per-month fee that entitles patients to a basic package of services including more than a dozen office visits per year, simple lab tests and many vaccinations. Patients are required to sign a one-year contract.
Why $75? "That's the same amount people spend on a monthly cable bill," Adkins says.
He refers patients who need colonoscopies or mammograms to specialists who provide them at reduced cost. And he sends those who need medication to Wal-Mart, Target or other chain stores that offer steep discounts on certain drugs.
Jerry Staggs, 68, who has seen Adkins for 13 years, is among 30 patients who have signed up. Staggs, who sees Adkins monthly for high blood pressure and Type 2 diabetes, is worried about losing his job selling media advertising for a large national company. The unemployment rate in the Fort Myers area is above 12 percent, nearly double what it was last year.
"What would I do for medical care?" asked Staggs, who said he could not afford to replace his employer-subsidized insurance. "This is a fallback plan: Something could happen to my job at any moment."
Dr. Ted Epperly, president of the American Academy of Family Physicians, said his Boise practice is adjusting charges for patients in financial straits based on a sliding income scale. His practice has also been allowing patients to spread payments over several years. One young couple who just had a baby is paying the $1,500 physician's fee in monthly interest-free installments of $70.
"Many of our patients are not looking for a handout," Epperly said, "just something the physician can do with them. As long as they're paying in good faith, even if it's just $5 or $10 per month, we'll work with them."
Rochester, N.Y., pediatrician Anne Francis said parents in her practice are increasingly requesting services over the phone to avoid paying for an office visit. "I have been more apt to do a telephone conference for parents who I know are having significant financial problems," said Francis, who doesn't charge for telephone time, unlike some physicians.
In other cases she piggybacks visits to treat a chronic condition, such as asthma, onto a well-child visit, because the cost of the latter is fully covered by insurance. To accommodate parents worried about missing work in a precarious economy, Francis's practice is staying open into the evening.
Neurosurgeon Amiel Bethel said one or two patients each week tell him that they're too worried about their jobs to take time off to recuperate from surgery, or can't afford co-pays or other fees. That rarely happened a year ago.
"We can only do so much pro bono work," said Bethel, interim chairman of the department of surgery at Greater Baltimore Medical Center in Towson. He refers patients to the hospital's billing office to work out a possible discount.
To compensate for a drop in procedures, Bethel said he has changed his schedule so he can see more patients, sometimes up to 15 more per week. "Medicine is not always recession-proof," Bethel said. "When the rest of the world is affected, we're affected as well."
Newman, the Baltimore internist, agrees, although her 14-doctor practice remains busy. The downturn has hit home for Newman in a more personal way. Her banker husband, who is in his 50s, has been told he is being laid off this month. "I think a lot of people are worried about what happens if this goes on for three or six months longer," she said.