Enroll America, a Washington, D.C.-based nonprofit whose mission is to educate Americans about their health care options under the Affordable Care Act, kicked off its Florida campaign Wednesday in Miami with a training session for more than 25 newly hired organizers who will be reaching out to residents statewide.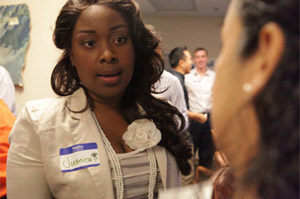 With a Jan. 1, 2014, deadline for most Americans to get heath insurance coverage, Floridians who aren't already insured or don't qualify for Medicaid will need to choose a healthcare plan, either from the private market or from one of the new healthcare exchange plans that will be available on Oct. 1. While the plans don't exist yet, and even the "navigators" who will help Floridians understand the new marketplace aren't yet known, Enroll America and other groups are wasting no time getting the healthcare word out.
"Seventy-eight percent of Americans have no idea there's a health marketplace," the organization's state director, Nick Duran, told the group assembled in a small United Way conference room. Team members, many hired within the past two weeks, must be ready to recruit and train volunteers, bring local partner organizations on board and start knocking on doors by the statewide "weekend of action" event starting July 27.
Nationally, Enroll America is funded by Kaiser Permanente, Families USA and other top donors to President Barack Obama's 2012 campaign.
Jimmy Tan, the organizer responsible for reaching out to residents in Miami-Dade County — Enroll America's most critical Florida region — is a veteran of Obama's 2012 Organizing for America campaign in Florida. Tan's staff of seven were chosen for their grassroots organizing experience in targeted Hispanic and Haitian neighborhoods, where they'll be recruiting volunteers and partner organizations to help spread the word.
Florida Organizing Director Ray Paultre, who helped kick off the training session, said he expects educating people on healthcare reform will take six or seven conversations per person to reach each "target" in his organization's database, which includes hundreds of thousands across the state. The conversations are aimed at individuals and families whose incomes would qualify them to receive federal tax credits to offset the cost of a healthcare plan.
Others besides Enroll America are getting into the consumer education act, including insurance giant Florida Blue, which will be participating in the new healthcare exchange.
"One of the interesting things is that only 10 to 15 percent of Americans have ever purchased their own health insurance policy. Most go through their employers or are uninsured," said Florida Blue chief strategy and marketing officer Craig Thomas.
To help them, Florida Blue plans more than 3,000 seminars to demystify the new health reform guidelines.
While the training session had the earmarks of an efficient political machine, Enroll America organizers say their mission has no party affiliation. "When the conversation is about healthcare, people tend to leave their politics at the door," Paultre said.