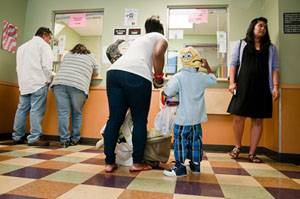 The biggest culprit in Texas' growing debate over escalating Medicaid costs? A mathematical formula that calculates how much the federal government pays and what's left over for the state.
Already facing a record budget shortfall, Texas' Federal Medical Assistance Percentage (FMAP) will drop more than 2 percentage points in late 2011, equivalent to a $1.2 billion hit. Only two states – Louisiana and North Dakota – will face a bigger percentage drop. And that's after federal stimulus funds that have been artificially enhancing this match dry up in the spring, another blow to cash-strapped state Medicaid programs in Texas and across the nation.
The problems with the Medicaid matching formula "have been talked about for the last 15 years," says Tom Suehs, the state's Health and Human Services Commissioner. "But the magnitude of the problem and the growth rate of health care spending in general is going to make this a front-line issue."
Texas' Medicaid costs have grown a staggering 170 percent in the last 11 years and now account for a quarter of the state's biennial $182 billion budget – a spike that has far exceeded the growth in state tax revenue, inflation and population.
Texas health officials, embroiled in a debate over whether to drop out of the federal Medicaid program or seek ways to redesign it, argue the FMAP formula's determining factor – how a state's per-capita personal income compares to the national average – is unfair and punitive. They say it strips funding from states that improve their fiscal health but ignores rates of poverty and the uninsured.
Right now, under Texas' FMAP match, the federal government should be paying 60 percent of the state's Medicaid costs. Instead, the number is closer to 70 percent, reflecting a boost from federal stimulus dollars that were supposed to run out this month but have been extended through June. Democratic governors, meeting in Washington, D.C., last week, said they doubted Congress would extend the enhanced Medicaid funding again when it runs out this summer.
Texas health officials have already asked for an additional $7 billion in the upcoming budget to make up the difference when Texas' FMAP match drops back down to 60 percent in July and to maintain current Medicaid and Children's Health Insurance Program services hard hit by growing enrollment and rising health care costs. But the federal match is projected to drop another 2 points in October, from 60.6 percent to 58.2 percent, a $1.2 billion loss state leaders hadn't accounted for.
"Virtually every state is struggling to pay for Medicaid," says Stacey Mazer, a senior staff associate for the National Association of State Budget Officers. For those that are also watching their match rates decline, she says, "it makes their Medicaid problem even worse."
The problem with the FMAP formula, Suehs says, is that it creates winners and losers. States with the highest per-capita personal incomes, like New York, get more than their fair share of federal dollars, he says, because of a congressional mandate that caps a state's FMAP contribution at 50 percent. Meanwhile, Texas is home to 10 percent of the nation's population living below the poverty line and 14 percent of the nation's uninsured but receives just under 7 percent of federal Medicaid dollars.
"The current way Medicaid dollars flow is fundamentally flawed," says Suehs, who predicts Texas will be down to the minimum – a 50 percent federal match rate – in six to eight years, dumping billions more dollars onto the state's shoulders. "And some states aren't getting their fair share back."
Another problem with the formula, critics argue, is that the data on per-capita income lags a few years. For example, the fiscal year 2012 Medicaid match is based on states' per-capita income average from 2007 to 2009. During that time, per-capita income across the U.S. rose only 0.4 percent; in Texas, it jumped 4.1 percent, reflecting the early part of that period, before the full impact of the economic recession hit. But the state's per-capita income dropped 3.2 percent from 2008 to 2009; nationally, the per-capita income level dropped 2.6 percent.
Meanwhile, Congress has not tinkered with the formula in recent years out of concern it would lead to higher federal costs for the program, says Sara Rosenbaum, who chairs the health policy department at George Washington University. "This goes to the fundamental question of whether the federal Medicaid participation formula is realistic," Rosenbaum says.
Texas won't see the biggest percentage drop of any state in fiscal year 2012; that unfortunate superlative goes to North Dakota, whose 4.5 percentage point decrease is the state Medicaid program's biggest in more than 25 years. The drop will cost North Dakota about $105 million in the next budget cycle – chump change for Texas but a big deal for a state with a tiny fraction of Texas' population.
"With this amount of general fund dollars that need to be infused in the program, it is certainly a big budget discussion," says Maggie Anderson, North Dakota's Medicaid director.
In addition to Texas and North Dakota, the other states that will see a drop in their federal base match rate next year will be Arkansas, Hawaii, Illinois, Iowa, Kansas, Kentucky, Louisiana, Maine, Mississippi, Montana, Nebraska, New Mexico, Oklahoma, Pennsylvania, Rhode Island, South Dakota, Utah, Vermont and West Virginia, according to Health Management Associates, a consulting firm.