ATLANTA—In Georgia, like many other Southern states, opposition to the federal health overhaul runs deep. Yet an overwhelmingly conservative committee of experts carefully, and without rancor, has outlined a plan to give the state a health insurance exchange, a cornerstone of the sweeping health care law passed by Democrats in Congress and signed by President Obama last year.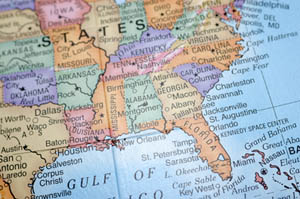 The panel had the blessing of Republican Gov. Nathan Deal, a former U.S. congressman who describes himself as the first House member to denounce the health law as unconstitutional. Georgia has joined 25 other states in a legal challenge to the law likely to be resolved by the Supreme Court.
But if the 2010 health law is not overturned by the court or repealed, states will have two choices—comply with the law, or wait for the federal government to force it on them.
This reality, and the opportunity to address the dysfunction in state health care systems, has tempered opposition to the Affordable Care Act, not only in Georgia but also in some other Republican-led states.
In Alabama, Gov. Robert Bentley, a physician, also opted to set up a committee to plan for an exchange and fought his legislature's decision to scale back Medicaid after enhanced federal funding expired. In Virginia, a task force appointed by Republican Gov. Robert F. McDonnell has completed a sweeping review of state health care policies and produced a set of recommendations designed to implement the law if it is not repealed.
Twenty-six of 29 Republican governors have accepted up to $1 million each in federal grants to design  state health insurance exchanges, marketplaces where individuals and businesses can shop for medical coverage. In addition, three of these states – Indiana, Mississippi and Nevada — have received  $31 million to implement the plans, according to the most recent federal listing of the grants. Arizona Gov. Jan Brewer has requested $29.8 million for one of these grants despite opposition from her own party.
The exchanges aim to encourage competition among insurers and give consumers access to a variety of insurance options. Under the health law, each state must have its exchange in place by Jan. 1, 2014. If not, the federal government will set one up for them.
The deadline has prompted states to "take a more practical approach," said Tricia Brooks, of the Georgetown University Health Policy Institute, which tracks the progress of the health law. Conservatives in many states have been forced to take a sobering look at their health care delivery systems, "and when they can get away from the politics of all this," Brooks continued, "they can see that maybe the (new law) isn't all bad."
In Georgia, this may well be the case. More than 20 percent of its population lacks health coverage of any kind, ranking Georgia 45th out of 50 states in this dubious category. Only 29 percent of Georgia firms with fewer than 10 employees are offering health coverage. Many small businesses are so crippled by insurance costs that they say they either cannot hire new employees, are losing the ones they have or are unable to expand because they cannot afford it.
"We've got to do something," said Republican State Rep. Richard H. Smith, the chairman of Georgia's House Insurance Committee. "An insurance exchange can work whether (the health care law) survives or not. We still need to give people access to health insurance."
Deal appointed the Health Insurance Exchange Advisory Committee in June after being forced to pull an exchange bill when tea party conservatives launched a protest just as the General Assembly was getting ready to vote on it.
"We knew it was going to be controversial," said Smith, lead sponsor of the House bill. "With this committee, we wanted to give more people a chance to buy in to the idea of an exchange and to understand it."
The committee, established by a Deal executive order, includes members from Deal's cabinet, both parties in the General Assembly, the insurance industry, health care providers, business and small business, consumer groups and the tea party.
On Oct. 27 the committee reached consensus on recommendations it would send to Deal. The Georgia exchange should be a quasi-governmental nonprofit that would operate like the state Lottery Corp. It would have a seven-member board of directors, with each director serving up to three, three-year terms. There would be separate pools within the exchange for small businesses and for individuals. "Small business" would be defined as 1 to 50 employees until 2016, when it could rise to 100 employees.
The committee mostly stayed out of the weeds, referring complicated details to the governor's office for resolution. How and when would providers be reimbursed? How would the exchange pay for itself?
Insurance broker Russ Childers prompted an argument by suggesting that it was impossible for exchange directors to be both knowledgeable and "free of conflicts of interest." Eventually the panel reworded the language: there should be "a formal process for addressing and resolving conflicts of interest."
Cindy Zeldin, executive director of Georgians for a Healthy Future, a group that supports the new health law, described the recommendations as "more deferential to industry and less mindful of consumers than I would have liked," but acknowledged that debate and discussion, both on Oct. 27 and at earlier meetings, was unfailingly "cordial and constructive."
And "everybody listened," added tea party representative Ed Painter, a photo shop owner from Dalton, Ga. "I like the free market, and the (new law) isn't free market. On the other hand, I'd do anything to facilitate real health care reform. It's a real conundrum for me, and that's why they put me on the committee. This is hard."
The lack of bombast was easily noticed at the October meeting. Not a single Republican in the committee room at Atlanta's Department of Community Health referred to the health care law as "Obamacare," a term repugnant to Democrats, and no advocate of the new law referred to the health care exchange as "compliance" with the law. "We're doing what's best for Georgia," said independent health care consultant Gerry Purcell—a conservative.
Deal declined to be interviewed for this story, but Blake Fulenwider, Deal's health policy adviser, said the governor would receive the committee's formal report by Dec. 15. If the governor decides "to go forward," Fulenwider said, "I'm confident we can craft an acceptable project for Georgia." Fulenwider said Deal and the legislature have not yet decided whether to draft a health care exchange bill.
Several committee members credited the federal health law for serving as the "catalyst" for a needed debate, but whether Georgia would build a state health insurance exchange if the act were struck down was "a big unknown," said Kyle Jackson, state director of the National Federation of Independent Businesses. "There are benefits to a health care exchange, especially for small business," he said, but without the federal law, "I don't know if the political will is there to make it happen."