With consumers in 36 states struggling to access a federal exchange website to compare health plans, the Obama administration launched a new online tool Thursday that lets users see premium estimates by state, health plan and two age categories.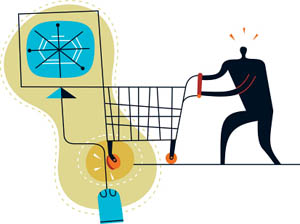 One of the biggest criticisms of healthcare.gov was that consumers had to create an account before they could even look to see what health plans are available in their area and what the premiums are. The website has blocked many users from establishing an account since its Oct. 1 launch, leaving most shoppers unable to learn what is being offered, let alone enroll.
The new online tool allows users to find out the average monthly premium by different health plan and by coverage tier—bronze, silver, gold and platimun—with higher metal tiers offering lower out-of-pocket expenses in exchange for more expensive premiums.
The prices do not take into account the subsidies people may be eligible for based on their income, or specific price points related to age. The site offers only two age breakdowns –younger than 50 or older than 50. Consumers also can't get any information on a plan's co-pays, deductibles and other benefit information.
But at least they can access the information without getting an error message — or being told to try again.
"We listened to your requests and now have high-level information about plans and rates in your community offered through HealthCare.gov," was the message on the exchange's Facebook page Thursday.
The premium data have been available at a webpage on healthcare.gov in spreadsheet form since Oct.1. That site offers more categories for browsing, but the new shopping tool makes it much easier to search by county, age group and type of plan.
Most state exchanges, including Connecticut and Colorado, have offered a shopping feature on their websites so users could compare plans without having to answer dozens of questions first.
The federal site does include this caveat: "All health plans and stand-alone dental plans may not be available at this time, due to technical issues. We'll update this information as soon as it's available."