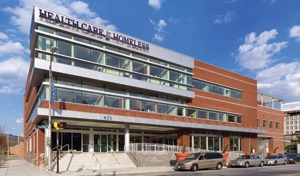 BALTIMORE – Homeless and unemployed, Tianne Hill dreads getting mail at the city shelter on Guilford Avenue where she lives. She knows it often includes medical bills she can't pay.
The 40-year-old former waitress and short-order cook owes about $6,000 for abdominal surgery. She's expecting another bill soon for emergency treatment of a seizure. And she has other conditions that require expensive care: asthma, arthritis, anxiety and depression.
Like many other homeless people, Hill is uninsured and ineligible for Medicaid, the state-federal program that covers millions of other poor Americans. But that will change beginning in 2014, when Medicaid greatly expands under the new health care law to include adults without children, who generally have been excluded.
"It's a huge transformation from Medicaid as it is today," said Kevin Lindamood, vice president for external affairs at Health Care for the Homeless in Baltimore.
The Medicaid expansion also will help the homeless by enabling agencies that serve them to divert resources now spent on medical care to other services such as finding housing and jobs. The new law provides another boost through a 5-year, $11 billion expansion of the community health center system that treats many in this population.
These benefits and President Barack Obama's recently announced plan to prevent and end homelessness mark a watershed moment in federal efforts on this issue, advocates say. Among its goals, the plan calls for greater coordination between existing housing, medical care and behavioral health programs to help end chronic homelessness in five years and homelessness for families and children over the next decade.
In a June report to Congress, the U.S. Department of Housing and Urban Development found that 643,000 people were homeless on a given night in 2009 while roughly 1.56 million people – or one in every 200 Americans – spent at least one night in a shelter last year.
But the new health law won't eliminate some daunting obstacles to improving health care. Locating and enrolling homeless people in Medicaid will be a challenge. Many also suffer from chronic, complex medical conditions, including mental illness and addiction. Low reimbursement rates for some services may lead to problems with access to care.
"Caring for this population is not so simple," said John Lozier, executive director of the National Health Care for the Homeless Council.
Few Health Care Options
Hill had a job but no health insurance when she had emergency surgery for a hernia five years ago. After the operation she says she had to leave her restaurant job because she could not stand on her feet for long periods.
The lack of income and foreclosure on a relative's house where she was staying helped cause Hill and her husband to become homeless. When they couldn't stay with friends or family members they slept in abandoned houses. Both now live at the shelter, Hill on the fourth floor and her husband, Linia Jennings, 50, on the fifth.
A Maryland law that provides some preventive care services to adults covers Hill's medications for depression and helped her get a pair of eyeglasses. But not having comprehensive health insurance means that Hill does not get all the medical care she needs.
"It is a worry when you see a bump or you have an ache or a pain or something just doesn't feel right," Hill said. "And you don't want to keep running to the emergency room because you're going to keep getting these bills."
Just a quarter of the 6,000 clients treated annually at Baltimore's Health Care for the Homeless are covered by Medicare, the federal program for seniors, or Medicaid. Sixty percent of the center's $12.5 million budget is from federal, state and local funds, while the rest is from corporations, foundations and individuals. The Baltimore program also gives grants to facilities in Frederick, Hartford, Baltimore and Montgomery counties that provide medical care to the homeless.
People from all over Baltimore, including those who live in shelters or on the streets, come to Healthcare for the Homeless, which is located next to a highway in the city's Jonestown neighborhood. Sunlight streams through floor-to-ceiling windows and artwork crafted by patients adorns the walls. On the building's first floor, clients sit in blue and green chairs waiting their turn to receive medical care, mental health counseling and addiction treatment, among other services.
"If we are actually able to bill Medicaid for those services, imagine what we can do with the private resources that we're raising?" Lindamood said. The center will be able to serve more patients, possibly open more locations and do more to help clients get housing, finish a high school degree or find a job.
"We know that when we house somebody and we provide them the services they need to stay housed their health improves," he said. "Our goal is to not only to help them access comprehensive services but to end their homelessness and move them off the streets and back into the mainstream."
While many homeless now gain access health care through emergency rooms or community health care centers like Baltimore's Healthcare for the Homeless, that could change as part of the Medicaid expansion.
"'They don't have to come to us. They may go to another provider," said Todd Johnson, assistant director of the Frederick Community Action Agency, which provides medical care, housing and other services to low-income or homeless individuals and families. Johnson is not sure yet what impact the Medicaid expansion will have on his facility or how it will affect other state or local programs that help provide medical care to the homeless.
Programs Already Vary By Region
Medicaid currently covers the disabled and many poor parents and children; some states have expanded their programs to also cover childless adults. Twenty-four states have some form of Medicaid-like health coverage for childless adults but most of those programs have benefits more limited than Medicaid. Four of those programs offer assistance to help individuals afford pay for coverage through their employer, according to a report from the Kaiser Commission on Medicaid and the Uninsured (both the commission and KHN are part of the Kaiser Family Foundation). In addition, the District of Columbia and Connecticut have already extended their Medicaid programs to cover childless adults, which include some homeless individuals.
When the new law kicks in, Medicaid will cover everyone who makes less than 133 percent of the poverty line – now $14,404 for individuals. The average monthly enrollment for Medicaid is about 48 million and the Medicaid expansion is expected to add another 16 million to the program over the next decade.
In the District, many homeless people who do not qualify for Medicaid get medical care under a program that covers residents who earn up to 200 percent of the federal poverty level, $21,660 for an individual. Maryland has a health care program for adults earning about $12,550 or less a year that provides some primary care services, including coverage for prescriptions and mental health care, but does not cover specialty services or a hospital stay. There are other programs as well, such as Montgomery County's "Montgomery Cares" which provides primary health care services to 26,000 county residents, including about 850 homeless individuals who receive medical services at community clinics.
In Virginia, there's no statewide program for the homeless, says Craig Markva, spokesman for the Department of Medical Assistance Services. But care is available through 59 free clinics around the state as well as local health departments.
"We're it or the hospital," said Nancy Pallesen, executive director of the Arlington Free Clinic.