Across the country, hospitals are estimating how much money they are going to forfeit when Medicare's new penalties for excess readmissions kick in. Hospitals are also issuing divergent verdicts on whether they think the program is a good idea or not.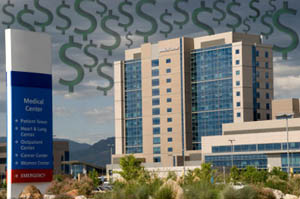 Starting in October, 2,211 hospitals will lose a portion of their regular Medicare reimbursements because too many of their heart failure, heart attack or pneumonia patients in past years were readmitted within a month of discharge. Medicare expects to recoup $280 million during the first year of the program, which was created by the health care law.
In Columbus, Ohio, where Ohio State University's Wexner Medical Center will lose 0.64 percent of its reimbursements, chief financial officer Michael Rutherford told the Columbus Dispatch that the penalty will cost the hospital about $700,000, or less than a tenth of 1 percent of the hospital's total revenue. He welcomed the Hospital Readmissions Reduction Program as a "real important initiative."
"I think overall it's going to allow us to give a higher quality of care more efficiently and more effectively, and I think actually we're all excited to do that," Rutherford told the paper.
In upstate New York, where Albany Medical Center will receive a comparatively small penalty of 0.05 percent, Dr. Steven Frisch, executive vice president of the hospital, told the Albany Times Union that: "In some ways there is some genius to this, but in some ways it's just [cost] cutting … wrapped up in paying for performance."
In Memphis, an executive at Vanderbilt University Medical Center estimated Vanderbilt will lose between $500,000 and $1,000 because of its 0.62 percent penalty, according to the Tennessean. "Every dollar hurts, and they're all important to us," Warren Beck, Vanderbilt's senior vice president for finance, told the paper.
Many of the hospitals being penalized say they have already launched efforts to reduce their readmissions.
In Western Pennsylvania, an official at UPMC's McKeesport hospital told the Pittsburgh Tribune-Review that it has begun placing nurse practitioners in nursing homes where many of its elderly patients are discharged. Readmissions have dropped by 40 percent since the effort began 18 months ago, but Medicare's penalty of 0.68 percent is based on its readmission rates for the three years ending in June 2011, so any improvements weren't factored in to the penalty calculation.
In Southwest Florida, Lee Memorial Health System told the News-Press that it used electronic monitoring to keep taps on its sicker patients who had returned home. Patients also receive follow-up calls from staffers and even physician house calls to avoid them returning to the hospital. The hospital will receive a 0.11 percent penalty.
Nationwide, 278 hospitals will be getting the maximum penalty of 1 percent, records show. The average hospital penalty will be 0.42 percent, and the median penalty will be 0.33 percent.
While hospitals can estimate how much the penalty will ultimately cost them, they can't know for sure. That's because the penalty percentage is applied to each bill the hospital submits to Medicare for a patient service during the upcoming fiscal year that begins Oct. 1. The more services a hospital bills Medicare for, the larger the total dollar amount of the penalty. The penalty doesn't affect other Medicare reimbursements such as the extra money hospitals get for capital improvements, to train residents and to offset the burden of treating large numbers of low-income people.
Kaiser Health News has published the penalties (or lack thereof) for the nation's hospitals. The data are available as a searchable PDF file and as a CSV spreadsheet.