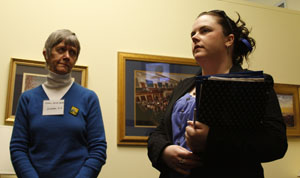 After Russ Hillard developed Huntington's disease, a devastating neurological disorder, he lost his $35,000-a-year job as a welder and, with it, his health insurance.
His wife, who was working part time, had insurance, but it didn't come close to covering the medical bills for the incurable disease, which causes uncontrolled movements, emotional problems and the loss of cognitive abilities. Eventually, Hillard qualified for Medicare, which covers disabled people under 65 after a two-year waiting period. But the coverage didn't kick in until after the family went deeply into debt and had to take out a $20,000 loan on their home in Methuen, N.H. The delay was a "cocktail for disaster," says Hillard's daughter, Laura Quinn, who is 29.
Today, more than 15 years later, Hillard, who is 56, is in a nursing home. Quinn, who has a 4-year-old son, tested positive for the disease two years ago. The Derry, N.H., resident is working with other advocates to press Congress to do away with the Medicare waiting period.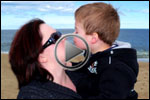 Under federal rules, most people with disabilities who are younger than 65 aren't eligible for Medicare until more than two years after they qualify for Social Security disability income. A coalition of more than 65 organizations led by the Medicare Rights Center has been pushing Congress to do away with the waiting period. But the effort has stalled because of the high cost to the federal government – an estimated $113 billion over 10 years, according to the Congressional Budget Office. That takes into account a $32 billion reduction in federal spending on Medicaid, the state-federal program for the poor and the disabled. Many people with disabilities go on Medicaid while they wait to become eligible for Medicare.
Discarding the Medicare waiting period "is always going to be an issue in Congress," said Edmund Haislmaier, senior health policy research fellow at the Heritage Foundation. "Some of it is money, some of it is politics, too. For members of Congress, irrespective of party or where they stand on the issue, it's kind of all-or-nothing because if they did it for some diseases, then they're immediately going to be inundated with 'Why didn't you do it for us?'"
Joseph Antos, health care policy scholar at the American Enterprise Institute, said that a total elimination of the waiting period was not going to happen. "Across the board eliminating the two years just doesn't seem practical," he said. "This really is a money issue."
Related KHN Story
Even though it doesn't change the Medicare waiting period, the new health care overhaul will provide some help to patients with Huntington's and other disabling conditions, said Joe Baker, president of the Medicare Rights Center. Beginning in 2014, insurers won't be allowed to bar disabled patients from purchasing insurance because of their diseases. Moreover, the coverage is likely to be more comprehensive because of new federal requirements.
Still, the patient groups are pushing to end the Medicare waiting period because many people may still need government help. Currently, nearly 39 percent of patients are uninsured for at least some of the time during the Medicare two-year waiting period while 26 percent have no insurance for the entire time.
Some groups, including the Huntington's Disease Society of America, are going their own way, asking Congress for specific waivers from the Medicare waiting period for their diseases. They believe that would be more politically feasible because the cost is lower than eliminating the waiting period for all disabled people. Huntington advocates also are trying to get federal officials to broaden their definition of the disease, to take into account the psychological symptoms so that people are eligible more quickly. Huntington's affects more than 30,000 Americans. Medical care is estimated to run about $10,500 per person annually for a total of as much as $26 million a year for Huntington's care, according to Mathematica Research.
Congress has given two other patient groups special consideration on the waiting period: People with amyotrophic lateral sclerosis, also known as Lou Gehrig's disease, are exempted from the requirement and those with end-stage renal disease have their waiting period shorted to three months or less, depending on circumstances of their treatment.
Controlling Costs
When Medicare expanded in 1972 to cover the disabled, Congress created the waiting period to help control costs and ensure that only people with severe, ongoing disabilities received coverage. About 17 percent of Medicare's total 47 million beneficiaries – just over 8 million people in 2010 – receive disability benefits, according to the Kaiser Family Foundation. (KHN is a project of the foundation.)
For most Huntington's patients waiting for Medicare coverage, life is marked by deteriorating health and financial hardship. Given the demographics of the disease, it is nearly impossible for patients to get health insurance: two-thirds live below 200 percent of the federal poverty level, which is $44,100 for a family of four, while more than half are older than 50 years old, according to the Medicare Rights Center. Some patients may receive coverage through a spouse's insurance or continue to buy their employer-sponsored health coverage through COBRA, a federal law that allows laid-off workers or disabled workers to purchase insurance for 18 months. Disabled patients also are eligible to extend that coverage for an extra 11 months. The price of COBRA coverage, however, is often prohibitive.
Brian Cera, 38, of Mesa, Ariz., whose mother died of Huntington's, started to notice his own symptoms two years ago. Before getting tested, he prepared for a possible diagnosis by purchasing long-term care insurance, maximizing his employer-supplied life insurance, and reaffirming that he would be able to buy insurance through COBRA. Once he was diagnosed, Cera's neurologist suggested that he stop working and apply for disability. He now pays $300 a month for coverage through COBRA.
He says it is important for Huntington's patients as they deal with the implications of their disease to remember that they should leave their jobs while making the highest salary possible and to make sure that their actions or disabilities do not lead to demotions or layoffs, as it did for Russ Hillard.
"I maxed out everything I could at work before I got tested ," Cera said. "You want to leave at the top while you're getting the money because" the disability benefits will be based on that.