Sen. John D. Rockefeller's announcement Friday that he would not seek a sixth term in 2014 will leave the poor, elderly and disabled without one of their strongest advocates on Capitol Hill.
Rockefeller played a leading role in 1997 in creating the Children's Health Insurance Program (CHIP), which serves nearly 8 million children nationwide, including 40,000 in his home state of West Virginia. He has been a fierce protector not only of CHIP, but also of the federal entitlement programs Medicare and Medicaid, which provide health care coverage to tens of millions of people.
Announcing his upcoming retirement Friday in West Virginia, Rockefeller said he was "proud to have my fingerprints all over" the 2010 health care law, which he said would help more than 300,000 West Virginians gain coverage.  "It isn't really popular in West Virginia, but frankly that's ok … because I know it's good and I know it's going to benefit West Virginia more than any other state," he said. The law is expected to help as many as 30 million people nationwide get coverage.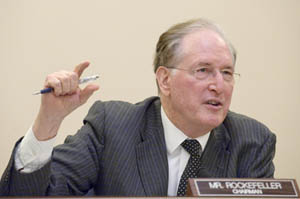 Under the law, he said, insurers "will have to stop dumping people when they get sick, and stop spending more on fancy offices than on medical care." He spoke with pride about a provision of the law which requires insurers to spend at least 80 percent of premium dollars on medical care or provide rebates. "The insurance companies don't like it, which makes me very proud," he said.
In a statement Friday, President Barack Obama hailed Rockefeller's service. "From his time in the state legislature to the Governor's office to the Senate floor, Jay has built an impressive legacy, one that can be found in the children who have better schools, the miners who have safer working conditions, the seniors who have retired with greater dignity, and the new industries that he helped bring to West Virginia," Obama said. "A long-time champion of health care reform, Jay was also instrumental in the fight to make sure that nobody in America has to go broke because they get sick."
Senate Majority Leader Harry Reid, D-Nev., called Rockefeller "a tireless and successful advocate for our nation's children, and … a leader in expanding their access to health care. Millions of families today are better off because of Jay's tireless work on programs such as the Children's Health Insurance Program and Medicaid."
Rockefeller noted his passion for comprehensive health care reform, in particular, "tackling the complex, systemic change that America has needed for so long."
Rockefeller, 75, the great-grandson of the industrialist with the same name, came to West Virginia in 1964 as a VISTA volunteer and later served in the state's House of Delegates and two terms as governor. He was elected to the Senate in 1984. He has extensive legislative experience in health care, both as a longtime member of the Senate Finance Committee and as chair of the Senate's Commerce, Science and Transportation Committee.
He chaired the bipartisan Pepper Commission, which focused on how to cover the uninsured and provide long-term care. The panel published its findings in September 1990.  "We wrote a perfect long-term care policy and acute care policy. And of course it was dead on arrival in the Congress," he mused Friday. He was also a backer of former President Bill Clinton's health care plan, which failed to get support on Capitol Hill.
Rockefeller said those failures only fueled his passion to pass President Barack Obama's health care overhaul. "So when this one came along, I was just determined to help make it happen for the simple reason that health care should be a right and not a privilege," he said.
In a 2011 interview with Kaiser Health News, Rockefeller said he would "fight to the end" to prevent cuts to the Medicaid program.
"My worry is that Medicare is now considered untouchable by Democrats and therefore we'll turn to Medicaid," he said. "There isn't the passion to defend Medicaid because the Medicaid population doesn't represent a political threat."
He's likely to become embroiled in that fight in the months ahead. Rockefeller said he is gearing up for a "really, really rough" battle over the debt ceiling, which is expected to include a debate over federal entitlement spending.
"Let me say clearly that I have every intention of keeping up this intensity – this no-holds-barred approach to solving problems that affect people's lives – for the rest of my Senate term and well beyond," he said Friday.