Medicare officials announced Thursday that they will delay enforcement of controversial new rules that define when hospital patients should receive observation care, rather than being admitted, a distinction that makes beneficiaries ineligible for follow-up nursing home coverage.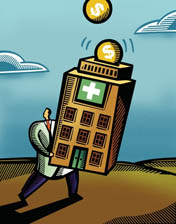 The new rules take effect Tuesday, but officials said they will not be enforced until at least Jan. 1. During that time, Medicare auditors will review a small sample of hospital admission records to insure that hospitals are working to properly implement the new standards but will not penalize mistakes.
The rules require hospitals to admit a patient who is expected to stay through at least two midnights. Those whose stays are expected to be shorter will be classified as observation patients, who generally pay higher out-of-pocket costs than inpatients.  Also, because Medicare requires a three-day inpatient hospital stay before it covers nursing home expenses, observation patients do not receive this this benefit.
The new rules have been criticized by the hospital industry, which claims they were confusing, and by patient advocates, who said the changes don't protect seniors. Both groups are pressing Medicare to end the three-day requirement for nursing home coverage.
On Tuesday, 109 members of the House of Representatives called for a six-month delay so that Medicare officials could "address flaws" in the new rules.
In a conference call with hospital representatives from across the country, Medicare Deputy Administrator Jonathan Blum said the new requirements were  developed in a response to  the "tremendous beneficiary concern" regarding the growth and duration of observation stays, as well as the high rates of  hospital admissions that Medicare auditors later determine should be classified as observation.  In those cases, hospitals have to refund their Medicare payment for an inpatient stay. The new rules allow hospitals to rebill Medicare for the payment for an observation patient.
"We understand that some feel we didn't get it quite right, and we also understand this is a new regulatory framework that requires some flexibility to put in place," Blum said.
About 1.6 million beneficiaries were put in observation care in 2011, the last year for which data is available, a nearly 69 percent increase in the previous five years.
The enforcement delay did not win over critics.
"I still believe a six-month delay would be a more prudent approach," said Rep. Allyson Schwartz, the Pennsylvania Democrat who initiated the congressional letter.  "It would give [the Centers for Medicare and Medicaid Services] more time to engage stakeholders and address several unanswered questions."
The American Hospital Association, which filed a lawsuit to force Medicare to eliminate the observation classification, was also disappointed. President Rich Umbdenstock said in a statement that the agency's strategy for a transition period "only raises new questions and lacks clarity."
Contact Susan Jaffe at Jaffe.KHN@gmail.com