People young and old crowd the hallway outside the locked door of the Arlington Free Clinic. They grip small pieces of paper that will determine whether they get in — or give up and go home.
It's lottery day, and 45 county residents who lack health insurance and money to pay for medical care are competing for 30 openings on a cold afternoon in January.
Mary Gleason, a clinic volunteer, draws letters from a plastic box. Those holding matching letters will be ushered through the door for interviews. If they meet the clinic's criteria, they'll return in a couple of weeks to see doctors or other staff.
One by one, winners are separated from losers. Gleason plucks a Z, and a man holding a Z strides into the clinic. His broken arm had been set in a hospital emergency room, and he needs to see a specialist for follow-up care.
If You Lose Your Coverage
Lost your employer health insurance? Consider these tips:
If your spouse has a separate plan, act quickly to get on it.
Ask about your COBRA rights. With some exceptions, laid-off workers can continue their coverage for 18 months by paying its full cost. (Congress is considering a temporary, 65 percent premium subsidy.)
If COBRA coverage isn't an affordable option, explore non-group plans. Make sure that any coverage meets the requirements to protect you against preexisting condition exclusions in the future. State rules vary.
Check out public insurance programs such as Medicaid and SCHIP, and community clinics. If you're not eligible now, you might be later. Local health and social services departments may be helpful resources.
When paying out-of-pocket for care, try to negotiate lower charges with doctors and hospitals.
SOURCES: Interviews with consumer advocates, insurance experts
Another man, who has Parkinson's disease and urgently needs drugs to treat it, leaves disheartened. He will have to return in two weeks and try again in the next lottery.
The lottery is just one example of the fate of the newly uninsured — the growing numbers who once had jobs and insurance and now seek treatment with neither. Although most of the clinic's clients have low incomes, the nonprofit, privately funded operation and others like it in the region are seeing more people who used to be solidly middle-class. Victims of the deepening recession, they're now wondering where to turn for help.
Neither rich nor poor, this group doesn't readily qualify for public programs such as Medicaid but often can't afford to buy insurance or pay hospital, doctor and drug bills. The Democrats' economic stimulus package would significantly enhance options for the unemployed and their families through insurance subsidies and a possible expansion of Medicaid, a package that some experts say would ease the financial dilemma.
"How many of us can lose our jobs and pay for our health insurance? Not many," says Gail Shearer, director of health policy analysis for Consumers Union, publisher of Consumer Reports magazine.
Where one lives matters, Shearer says. Some states make it easier than others for people with chronic conditions to obtain private insurance. Medicaid serves the poor, especially children, but eligibility criteria vary. Virginia has the most stringent guidelines for adults in the region: Working parents with a child can earn no more than $5,352 annually to qualify for coverage. Uninsured kids and some parents who don't qualify for Medicaid may be eligible for the soon-to-be-extended State Children's Health Insurance Program (SCHIP).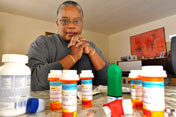 Arlington resident Jean Perry, 57, tried her luck in a clinic lottery because she couldn't afford insurance after losing her $40,000-a-year job as a coffee shop manager last summer. Under federal law, she could have kept her employer-provided policy, but at full cost: $400 a month.
"Of course I couldn't afford that," said Perry, not even with unemployment benefits, which in Virginia top out at $1,452 a month. Buying a cheaper policy also was beyond her means. She put her dwindling funds into prescriptions for treatment of chronic problems, an upper respiratory blockage and high blood pressure. They cost from $29 to $159 a month each. Monthly doctor's visits added $72 more.
Needing help, Perry showed up for the clinic lottery on Dec. 2.
"I was quite overwhelmed, to say the least, never having been in that situation before," she said. "Just watching the many people who were there and observing the people who didn't get it."
She won a slot at the clinic with the letter S. Now she pays nothing to see doctors, and her prescriptions cost $5 each, the result of the clinic's obtaining free drugs from pharmaceutical companies.
This recession is much harder on the uninsured than on some others, not just because it's deep and long. Health-care and insurance costs have been rising faster than workers' incomes. As Perry discovered, buying a policy or paying for care out-of-pocket is prohibitively expensive.
"Because of increasing per-capita spending on health care," said Brookings Institution economist Henry Aaron, "the costs of losing insurance are greater than they were 15 years ago."
Since the recession began in December 2007, the number of unemployed Americans has increased by 3.6 million. Economists predict more job losses.
The number of uninsured is approaching 48 million, according to data from the Kaiser Commission on Medicaid and the Uninsured, and would increase by roughly 1 million if the unemployment rate — now 7.2 percent — hits 8 percent. (Both the commission and Kaiser Health News are part of the Kaiser Family Foundation.)
Proposals by President Obama and Democratic congressional leaders to overhaul the health-care system vary, but the most ambitious ultimately would require all Americans to be covered by private or public plans. Republicans are developing their plans, while debating the Democrats over stimulus legislation proposals to make many laid-off workers temporarily eligible for Medicaid and help others retain their employer health insurance. Republican critics say even temporary expansion of insurance programs will likely lead to expensive new government involvement in paying for health care.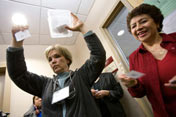 Under a federal law known as COBRA, most laid-off workers have the right to retain employer health insurance for 18 months by paying the full premiums, which average nearly $13,000 a year for comprehensive family coverage and $4,700 for individuals. The stimulus bill approved by the House would have the government temporarily subsidize 65 percent of the cost of premiums, which many now find unaffordable. It also would enable people 55 or older, or those who have worked for a company for 10 years to keep COBRA coverage until they're eligible for Medicare or get another job.
"COBRA is ridiculous," said Hamilton Shoop III, who until October made a good living helping businesses negotiate favorable terms with contractors. "You go from making so much money every two weeks on your paycheck, and they send you a COBRA notice for $800 a month."
Alternatively, many people investigate buying policies on the individual market. But such coverage often has high deductibles, offers fewer benefits than employer policies and may not cover long-standing medical problems.
Shoop, 56, a Jessup resident, ran into this problem when he shopped around after losing his job. His wife, who'd been covered under his insurance plan, has high cholesterol, and he has diabetes and high blood pressure.
For now, he's paying out-of-pocket for whatever he can afford. Which isn't much. He still doesn't have insurance or a job, and in the meantime is hoping to turn his passion for playing music into income.
Shoop is postponing the blood test he needs every three months. "I don't have money to pay for doctor's visits," he said.
Children fare better under government programs. After architect Marisol Hernandez was laid off in November, she and her husband obtained coverage for their 4-year-old girl and year-old boy through Famis, the Virginia version of the children's insurance program.
Health insurance was her first concern after losing her job. "I care a lot about my income," said Hernandez, who lives in Reston. "But my insurance, when I have kids, is something that has to be working all the time."
Baltimore HealthCare Access, a nonprofit affiliated with the city health department, assists people trying to navigate the system. "People don't always know — even providers don't always know — which application they should fill out, which program they should apply for," said Kathleen Westcoat, president of the organization.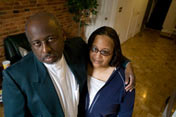 Her staff is working with Clarence Hooper, a building contractor who was let go by his company in September. He has applied to the state Primary Adult Care Program, which serves people 19 and older who don't qualify for Medicaid. Although it doesn't offer hospital and specialty care coverage, it would be a godsend for Hooper.
He has glaucoma, and his wife has carpal tunnel syndrome and needs surgery. But they can't afford it. "So she's suffering," said Hooper, 54. "It's a big toll on you when you can't do anything."
Some nonprofits and public officials in the Washington area have tried to close the gap for people who don't qualify for Medicaid but can't afford private coverage. Howard County's "Healthy Howard" initiative offers a broad spectrum of care for people with a wide range of incomes, up to $63,600 for a family of four. Participants pay a flat monthly fee.
Christian Akuffo and his wife, Doris, have applied to the program. A hotel housekeeping manager in Laurel, he lost his insurance last spring when another company bought the hotel. Since then, Doris Akuffo has gone to a hospital emergency room repeatedly for care but found it difficult to get follow-up treatment with doctors. "You call and try to work out something," her husband said, "but without insurance it's rough."
Community clinics, some private and others federally subsidized, offer help to those who can't get any elsewhere.
Robin Roberson, director of the Community Free Clinic in Hagerstown, says that since August she has seen a 30 to 40 percent increase in demand for services, reflecting rising unemployment. Western Maryland is losing hundreds of well-paying jobs as manufacturers of automobile equipment, boats and furniture cut back or close.
"We have people who just walk through our doors every day," she said. ' "I lost my job, I don't have any benefits, what do I do?' " She strongly recommends that people who can't afford or qualify for COBRA buy individual insurance. "Coverage isn't as good," she said, "but may be enough to get you through a crisis — an accident or life-threatening illness. For those with chronic illness, just the cost of medicine may be greater than the mortgage payment."
Lois Wadace participated in Arlington Free Clinic's recent lottery because it "felt like my only option." She worked as a full-time registered nurse until she had a stroke last May. She had started a new job, and her health benefits hadn't kicked in.
She wasn't eligible for COBRA, Wadace said, and couldn't purchase insurance on the individual market because of her stroke.
Wadace, a 61-year-old grandmother, "got very worried as all the people showed up" for the lottery. But her letter was drawn. If she meets the criteria (there are residency and income requirements), she'll have access to health care.
Like many others who have lost their jobs and insurance, she's stunned.
"I never imagined I'd be in this position."