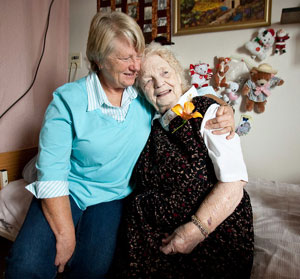 Lela Petersen thinks about health care a lot these days. She's a small business owner who pays $1,150 a month to an HMO, covering her and her husband. Petersen doesn't have any other option, but her 94-year-old mother, Gracie Scarrow, is another story.
For the past four years Scarrow has been receiving long-term care at the Lincoln County Hospital and Nursing Home in Hugo, Colo., paid for largely by her Medicaid coverage. Medicaid is the federal and state-funded program for the poor and disabled. Both mother and daughter say they are very satisfied with the program. Petersen says her mother is getting exactly the care she needs.
A Comfortable Life
At the nursing home, in her room she shares with another woman, Scarrow has decorated nearby shelves with stuffed animals she won playing bingo. She has a keyboard next to her bed, and with only a little prompting Scarrow will turn it on and play the old hymn "What a Friend We Have in Jesus."
Most days Scarrow seems to get along fine at the nursing home. She always carries an oxygen tank with her, even when she moves slowly down the hall to the dining room for lunch.
More on Medicaid
"Are You Covered?"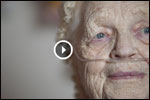 As a nurse's aide, Gracie Scarrow spent 20 years around nursing homes, and knew she never wanted to live in one. But the day came when she no longer had a choice.
"I have congestive heart failure," says Scarrow, sitting on the edge of her bed. Before arriving here, she was living by herself until she passed out one night. "I had a heart pill in my hand, but I didn't take it."
Petersen says her mom couldn't afford the nursing home on her own. Her Social Security income is $600 a month and after selling her house she cleared only $3,500. A doctor suggested signing up for Medicaid to pay the $80,000 a year bill for her long-term care. Scarrow is left with about $50 of her Social Security check each month for spending money.
Petersen said, at first, her mother was embarrassed about accepting government help, because she's always been independent and supported herself. Much of her life was spent in facilities like this one, as a nurse's assistant.
"Mom worked in an era when health care was what it was called. It was called care. Kindness and care. In today's world, health care is money," said Petersen.
States Feel The Pinch
Colorado has nearly a half-million people on Medicaid and, like in a lot of other states, that number rose dramatically in the past year, increasing by more than 10 percent. The economy and unemployment are largely to blame.
Typically states and the federal government split the cost of Medicaid, though with the recent stimulus money the federal government is picking up a larger share now. Even with that help, Colorado has difficulty paying its share. Recently the governor trimmed payments to doctors and hospitals to help balance the state's budget.
Hoping For Overhaul
Politically, Petersen says she typically votes Republican. But last year she voted for Obama, and she's excited about efforts to overhaul health care in the United States. She's frustrated with the costs of her own coverage, but very happy with the Medicaid coverage her mother receives.
She doesn't have a specific solution for health care overhaul, but she does support things like tort reform and tighter regulations for insurance companies. In coming months, she'll watch closely to see what solutions policymakers in Washington come up with.