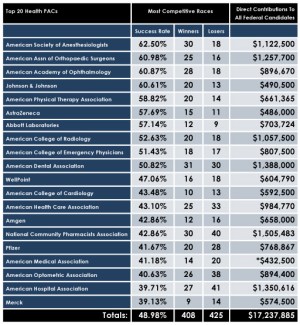 The nonprofit Center for Responsive Politics provided Kaiser Health News with a list of the 20 health-sector political action committees that had contributed the most money to federal candidates and committees as of Oct. 25, the most recent Federal Election Commission data available. (PACs are required to report additional data by Dec. 2.)
KHN analyzed those 20 PACs' direct contributions to individual candidates in the 94 most competitive congressional races-those rated "toss-up" or "leaning" towards a particular party by CQ Politics-to determine the PACs' win-loss records. Three of those races have yet to be decided and weren't tabulated for win-loss purposes. The analysis did not take into account other PAC spending or contributions to candidates in less competitive races.
To reflect the fuller scope of the PACs' giving, the graphic provides the total amount of their direct contributions in all federal races, not just the most competitive.
Related Story:

Scorecard: How Health Industry PACs Placed Their Election Bets
* — UPDATED, 11/23/2010: The AMA's PAC (AMPAC) says that it made a total of $1.41 million in direct contributions through the election Nov. 2. The chart relied on data collected by the Center for Responsive Politics from the Federal Election Commission. However, the FEC had not yet processed AMPAC reports for September or the first two weeks of October.