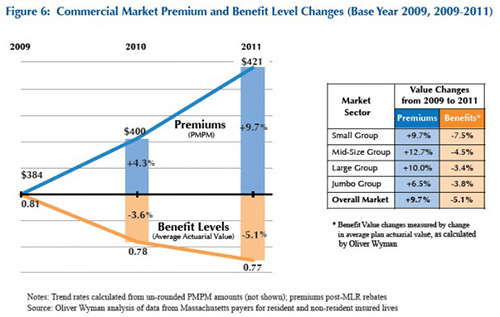 If Massachusetts residents have the feeling they're getting less coverage from their health insurance even though it's costing more, there's now evidence that they're right.
A state report says Bay State premiums rose 9.7 percent between 2009 and 2011, while the value of that coverage shrank 5.1 percent.
"What we've seen over the last couple of years is that premiums are growing faster than inflation and at the same time, the quality of the benefit is declining," said Aron Boros, whose state agency, the Center for Health Information and Analysis, published the report. "So you're not only paying more, you're getting less."
The gap between what consumers get and what they pay is widest for individuals who buy insurance on their own and for small businesses who have fewer people to buffer the impact of health care costs.
There are lots of reasons health care premiums continue to rise. But Boros says there's one particularly thorny issue in Massachusetts: Residents get most of their care at the most expensive hospitals, instead of going to the nearest community hospital for the basic stuff like mammograms, check-ups and routine surgery.
"If you want to contain costs or reduce costs, you have to go after where the costs are," Boros said. "The vast majority of costs are in high-priced hospitals and physician groups."
Specifically in Partners HealthCare, which Boros says takes in 28 percent of all payments to hospitals and doctors in Massachusetts. But Partners is also the state's largest private employer. It and many other high-priced hospitals spawn medical innovations and drive the state's health care industry.
The report out Wednesday lays the foundation for health care cost hearings this fall run by the state's Health Policy Commission. Its director, David Seltz, says there will be lots of tough questions for hospitals and physicians, including, "Why are these trends existing, what are they doing to mitigate them in the long term, and what are the places where the commonwealth can help and push this industry to achieve some of those efficiencies?"
Expect the pressure to continue on patients as well to make "smart" choices about where to get care.
"There is a strong push towards getting the patient more involved by providing better tools and better incentives through limited and tiered networks and high deductible plans," Boros said. "But we're at the infancy of those things."
By October, health insurers in the state are supposed to have a website and phone number you can call to get the price of any treatment you need. When you're choosing where to go, ask how the quality compares as well as the price.
There are a handful of other nuggets that stand out in the report:
39 percent of the payments private insurers make are within a global budget. But enrollment in HMOs, where global budgets are used, is dropping. Is this a sign of patient backlash?  Boros doesn't know.
Blue Cross Blue Shield, Harvard Pilgrim and Tufts Health Plan have 80 percent of the commercial market even though they are the most expensive insurance options in the state. Why aren't employers trying low-cost options?
Half the commercial market is self-insured. This has been true for couple of years, but it's still surprising.
On average, commercial insurers spent $414 per member per month, but among insurers there is a wide range — from $196 at Cigna to $434 at Harvard Pilgrim.
This story is part of a partnership that includes WBUR, NPR and Kaiser Health News.