Like businesses across the country, Angelo's restaurant has been recovering from a miserable economy, a load of debt and a bottom line that until recently was the color of its special marinara sauce.
So owner Michael Passalacqua probably speaks for many when he expresses relief about the decision to delay enforcing the Affordable Care Act's requirement for employer health insurance until 2015.
That was one challenge he didn't need next year, he said. He's glad for the extra time to figure out if the Washington, Pa., restaurant must conform to the health act and, if so, how.
"It's nothing but a noose hanging right over my head," he said. "If I've got to come up with $50,000 a year to pay health costs, that is literally taking 75 to 80 percent of the small amount of profit that I've been able to generate the last couple of years."
Until the Obama administration announced the delay this month, companies with at least 50 workers had to offer affordable coverage to full-time employees by 2014 or pay a substantial fine.
Most employers already provide health insurance, so the postponement will have little effect at most workplaces. But retailers, hotels, restaurants and other businesses that haven't traditionally insured all employees are happy for the reprieve and even hope that Congress might still change or abolish the law.
"There's a sense of relief that they have more time to ascertain their options," said Roger Howell, an employee benefits consultant in Wilkes-Barre, Pa. "A lot of employers are just starting to get their arms around the true meaning of this legislation."
The employer mandate is a major part of the health law along with expansion of the Medicaid program for the poor and a requirement that individuals obtain medical insurance. But defining who is a full-time worker under the employer requirements and what constitutes a 50-employee company proved far more complicated than many expected.
Passalacqua is confident that Angelo's, off Interstate 70 south of Pittsburgh, has too few workers to fall under the employer mandate on its own. What he and his advisors aren't sure about is whether the law requires those employees to be added to workers at other businesses owned by some of the restaurant's investors, thus exceeding the 50-worker threshold.
If the answer turns out to be yes, he said he'll either have to cut employees' pay to cover insurance premiums or reduce their hours so they don't qualify for coverage as full-timers. But now the restaurant has another year to figure it out.
"If I've got a line cook making $16 an hour he's going to get $12 an hour and get health care," said Passalacqua. "The money has to be made up somewhere."
Only about half a dozen senior Angelo's employees have health insurance through the restaurant now, covering most of the cost through payroll deduction, he said.
Not all employers contemplating coverage expansion will necessarily delay, benefits experts said.
Some worry about confusing employees — having them seek subsidized coverage directly from insurers next year and then giving them a company plan in 2015. While the requirement for employers to offer coverage is delayed, the requirement for individuals to get it is not.
Other employers may not want to waste preparations spent getting ready for 2014.
"It tends to be the larger plans who have dedicated time and great expense to creating their system and fine-tuning their workforce who will be more likely to go ahead," said Neil Trautwein, benefits attorney for the National Retail Federation, in industry group. "But I think the reaction is all over the map."
On the other hand, some employers fear losing a competitive edge if they expand coverage next year and rivals don't.
"I've heard companies saying: We were going to up our coverage, but now that there's this delay we're reevaluating," said Steve Wojcik, vice president of the public policy at the National Business Group on Health, a group of Fortune 500 firms. "If we're the only ones who do this in our industry we're going to have all these extra costs."
The nonpartisan Congressional Budget Office estimated that the health act would have relatively little effect on job-based coverage in 2014. But analysts estimate that delaying the employer mandate will make millions more people eligible for coverage in online marketplaces known as exchanges next year.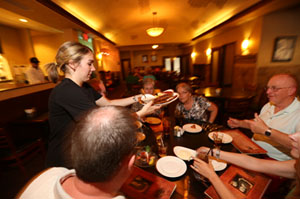 If Angelo's is an indication, many consumers may decide to pay the fine — which starts at $95 next year, or 1 percent of household income, and rises to $695 in 2016, or 2.5 percent of household income— instead of buying insurance.
"Most of the people who work for me are under 30, and they're not concerned about having health care," Passalacqua said.
Founded in the 1930s by Passalacqua's grandparents, Angelo's took on millions in debt to expand in 2008, just as the financial crisis hit. With an $800,000 annual payroll and a $300,000 annual mortgage payment, the establishment lost money until the economy began to recover and still turns a thin profit, he said.
Passalacqua said he'd like to offer health coverage to all employees — but on his terms, not Washington's. "It's the right thing to do," he said. But to afford it without cutting workers' pay or hours, the restaurant's sales need to rise from their present $2.5 million to around $3.5 million or so, he said.
He and other business executives would at least like Washington to change the definition a full-time employee who is owed insurance from one who works 30 hours weekly to one who works at least 35 hours. But they don't have much hope. Meanwhile he's not complying with the Affordable Care Act until he has to.
"If I have to provide at this point a health plan for my full-time workers or pay the fine, I'm in a lot of trouble," Passalacqua said.