Medicare's readmissions penalties are falling hardest on hospitals in New Jersey, New York, Arkansas, Mississippi and the District of Columbia, a Kaiser Health News analysis of updated government data shows.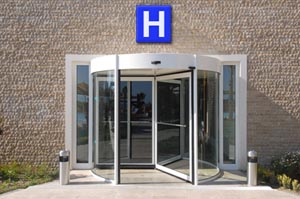 Medicare revised its penalties from the new Readmissions Reduction Program at the end of September after discovering it had made small errors in its calculations affecting more than 1,400 hospitals. The end results of those alterations were minor, and KHN's new analysis shows that the geographic distribution of penalties around the country did not change in any significant way after Medicare corrected its punishments.
A total of 2,217 hospitals, or 71 percent of those eligible, are receiving penalties for having too many patients with heart attacks, heart failure or pneumonia return within 30 days. Only hospitals with at least 25 heart failure, heart attack or pneumonia cases for Medicare to evaluate were eligible. (Medicare also excluded critical access hospitals, certain cancer hospitals and all hospitals in Maryland and Puerto Rico.) A total of 307 hospitals received the maximum penalty: a reduction of 1 percent in all of Medicare's reimbursements for the fiscal year that began Oct. 1.
KHN's interactive charts breaking the penalties down by state and hospital referral region have been updated with the new data. Penalties for individual hospitals were updated earlier this month and can be viewed on as a PDF chart or downloaded as a csv file.
The new geographic data show that:
Idaho remains the only state where no hospitals are being penalized. Penalties for hospitals in Utah, Vermont, South Dakota and Wyoming were the lowest on average.
Every eligible hospital in 56 out of 304 local hospital markets is receiving a penalty, including a number of areas with 10 or more hospitals: Manhattan; Chicago; Camden and Newark, N.J.; Cincinnati; New Haven, Conn.; Kingsport, Tenn.;  Greenville, N.C. and Tampa, Fla.
Only 20 regions — each with just a handful of hospitals — completely escaped punishment. Of regions with 10 or more hospitals, Salt Lake City, Greenville, S.C., Sioux Falls, S.D. and Spokane, Wash., avoided the brunt of the penalties, with no more than one out of four hospitals receiving one.
The hospital markets with the highest average penalties are Elmira and the Bronx, N.Y.; Gulfport, Miss.; Newark, N.J.; and Blue Island, Ill. All face average penalties of 0.8 percent or higher. Other areas where the penalties are very severe are Hackensack, N.J.; Slidell, La.; New Brunswick, N.J.; Dearborn, Mich.; Manhattan and White Plains, N.Y.; and Joliet and Munster, Ill.
The revised penalties, like their earlier versions, fall hardest on safety-net hospitals.  KHN again divided hospitals into four quartiles, based on how many poor patients they tended to treat. In the quartile of hospitals with the most poor patients, 12 percent received the maximum penalty, and only 20 percent avoided any penalty. By contrast, in the quartile of hospitals with the fewest poor patients, only 7 percent received the maximum penalty, and 33 percent were not penalized at all.
Here's the full breakdown: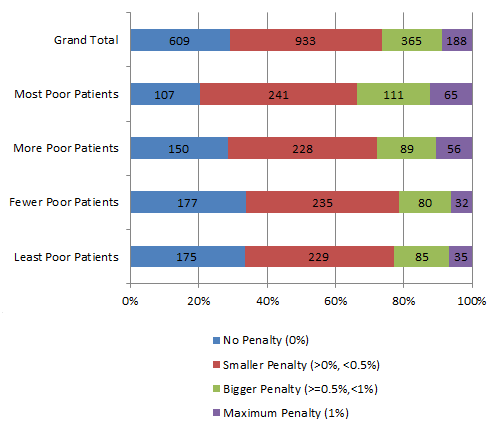 jrau@kff.org