In 2007, pediatrician Jay Parkinson, fresh from a Johns Hopkins residency program, rejected a traditional private practice model in developing his own approach to providing health care.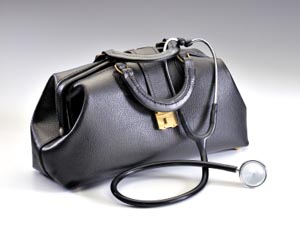 To cut down on overhead costs and staff, Parkinson created a public Google calendar on his site for patients around Brooklyn's Williamsburg neighborhood, where he lives, to request a time and date for appointments. He would then make house calls and request payment via the online service, PayPal.
His idea garnered attention from the media and other health care providers, and his website received seven million hits the first year.
Now, five years later, he and his business partner, Cheryl Swirnow, have built a Web-based service for New Yorkers called Sherpaa that attempts to streamline the diagnosis process for patients and to provide businesses additional health care benefits for their employees.
Sherpaa operates mostly through e-mail and the phone. Users explain their medical problem or question to two full-time doctors, called "guides," who answer questions 24/7. Then, the doctors either prescribe medicine and treatment or refer patients to a network of 100 other doctors in the city whom Parkinson has approved after building relationships with them over the past five years.
"Humanization is the big piece here," said Bryce Roberts, managing director of OATV, a seed fund investment company that invested in Sherpaa. He said that other new health technologies, unlike the Sherpaa system, often fail to preserve communication with health providers.
So far, 12 companies including Tumblr, Percolate and Greatist have supplemented their employee health care plans with the system. Sherpaa first works with the client company to review their existing health care plan and to see if there is a better option. Parkinson said that after adjusting their health care plans no company has had to pay more to provide health care benefits by adding Sherpaa.
Sherpaa charges about $50 to $80 per employee monthly. This cost covers users' access to the two staff doctors and the consultations. If they are referred to the larger network of doctors, the patient would pay whatever fee or copay the doctor would normally charge.   This could vary based on which insurance plans the physician accepts.
While Roberts and Parkinson say the model is cost effective, health work force expert Tim Dall has doubts.
"This particular model won't be able to gain too much of a foothold in the U.S., simply because there are not enough doctors to allow the nation to provide this level of care, and because it tends to be more expensive than traditional models," said Dall, managing director of health care consulting at IHS, a global information company.
Citing the shortage of primary care doctors, Dall said the ratio of doctors to patients per physician in a system like Sherpaa would be smaller and more expensive. He said if more physicians choose to practice in similar ways, there would be fewer people treating the remaining population.
But Parkinson said Sherpaa is not like the concierge doctor services that cater to wealthier clients. He hopes his system will simply make medicine more accessible regardless of income levels and cut down the costs of extra staff.
And while Sherpaa is currently concentrating on New York City, Parkinson said he hopes to expand to other metropolitan areas, when "the time is right."