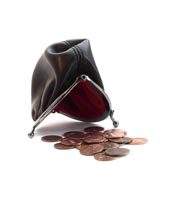 Over a decade, the median-income family of four with health insurance from their employer saw their real annual earnings rise from $76,000 in 1999 to $99,000. But nearly all that gain was eaten up by rising health care costs, a new study finds.
After taking into account the price increases for other goods and services, the typical family had just $95 a month more in 2009 than in 1999 to devote to non-health spending, according to the paper by David Auerbach and Arthur Kellermann of RAND.
Who's at fault? The latest issue of Health Affairs is devoted to the topic of growing health costs. The culprits, many of the studies conclude, are hospitals and doctors more than insurers or patients, despite the political rhetoric to the contrary. To wit:
Higher fees to physicians are the main driver of health care spending increases, according to a study by Miriam Laugesen and Sherry Glied. They compared fees for primary care visits and hip replacements in the U.S. with their counterparts in Australia, Canada, France, Germany and the United Kingdom.  They found that in most cases, both public and private payers in the U.S. spend more than overseas counterparts:  Government insurers paid U.S. doctors $1,634 for routine hip replacements, more than double the $652 paid to Canadian doctors. Private insurers paid $3,996 to U.S. doctors for a hip replacement, triple the $1,340 paid to French doctors. U.S. docs earned higher incomes than their peers in other countries: $186,582 for primary care and $442,450 for the orthopedists.  The authors concluded that insurers haven't been successful in negotiating fees with specialists.  One of the authors, Glied, is now an undersecretary at the Department of Health and Human Services; the paper was written when she was teaching at Columbia University and, Health Affairs said, does not reflect the official views of the government.
Lack of competition among hospitals is a bigger problem than is the lack of competition among insurers, according to a study by Glenn Melnick, Yu-Chu Shen and Vivian Yaling Wu. Only 7 percent of hospitals operate in local health markets with few insurers. When that occurs, the insurers tend to have more clout and hospital prices are about 12 percent lower than in markets with lots of insurers competing with each each other.  More often, markets have only a handful of hospitals and a bunch of insurers, giving the hospitals more leverage in negotiation over prices. The authors conclude that the government needs "to adopt proactive policies to increase hospital market competition." (Hospital market power is an issue KHN has examined in our Hospitals, Inc. series, including our look at the San Francisco Bay Area and at the Washington, D.C., region.)
Three-quarters of the growth in health care spending per person between 1996 and 2006 was due to increases in the cost per case, according to a study by Charles Roehrig and David Rousseau. (Rousseau is a vice president at the Kaiser Family Foundation; KHN is an editorially-independent program of the foundation.) The study found that only a quarter of the growth was due to the rise in the number of cases. It concluded that efforts to prevent disease, such as tackling obesity, aren't likely to be enough to stop health care spending from rising faster than the economy's growth. That will require getting control of the increase in costs per case.
Much of the issue is less gloomy, examining potentially promising efforts to cut health care costs. One article estimates Medicare could save $7 billion or more if it successfully focused on weight-loss programs. Another provides an overview of Medicaid managed care efforts, which also have been recently examined in Texas by KHN and in Illinois by the Chicago Tribune.