U.S. doctors are no longer the laggards when it comes to using health information technology in their practices. But they are still more weighed down by paperwork and health care costs than many of their Western counterparts.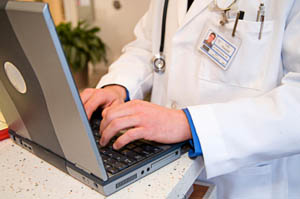 A survey of nearly 8,500 primary care doctors in ten of the world's wealthiest countries took a new look at health IT adoption, updating a 2009 study conducted by The Commonwealth Fund and Harris Interactive.
Two-thirds of the American physicians in a sample size of 1,012 reported using electronic health records, compared to 46 percent three years ago. More doctors also said their practice included e-mailing patient summaries and test results.
The Netherlands, Norway and New Zealand adopted the technologies earlier, and almost all of their physicians continued to report using EMRs since 2009. All three countries have some form of universal health care.
"Bringing in EMRs only makes sense when standards have been set," said Cathy Schoen, a lead author of the study and senior vice present of policy, research and evaluation at the Commonwealth Fund.
Schoen said more U.S. physicians were open to transitioning from to paper to electronic records and exchanges after national policies were put into place to regulate the technology. The Centers for Medicare & Medicare Services Incentive Programs govern the "meaningful use" of electronic health records and provide incentives to physicians who adopt systems that meet specific criteria.
Dr. Jeffrey Cain, president of the American Association of Family Physicians, said primary care doctors were the first to implement electronic health records, even though the cost was high for their practices compared with that of specialty practices. He said newer physicians entering the workforce, who are generally more comfortable with technology, have added to the momentum driving EMR use.
While health IT advancements foretell more efficient practice, only 15 percent of American physicians thought the country's health care system worked well, according to the study. And they blamed insurance coverage restrictions for stymieing access to care and undermining potential for change.
"It's expensive and fragmented," Cain said in response to complicated insurance reimbursements. He said family physicians spent an average of eight hours a week filing paperwork, because insurance companies and federal coverage plans each had a different process.
Primary care physicians are hopeful that changes advanced by the health law – including coverage expansions – could prove helpful, according to the Commonwealth Fund's Schoen. "Right now it's complexity without value," she said.