Did McAllen get a bum rap?
McAllen, Texas, spends more on Medicare patients than almost any other part of the country. A June 2009 New Yorker article by Atul Gawande attributed the high spending to a culture of doctors that "came to treat patients the way sub-prime mortgage lenders treated home buyers: as profit centers." The article became required reading in the White House and Congress during the health care debate and turned McAllen into shorthand for America's decadent medical spending problem.
But a study published today (Tuesday) in Health Affairs contradicts one of Gawande's assertions: that McAllen doctors over-treat everyone. The study looked at claims data from the private insurer Blue Cross and Blue Shield of Texas. It found Blue Cross paid McAllen 7 percent less for the care of the average McAllen patient than it did for an average patient in El Paso, 800 miles up the Rio Grande. The New Yorker article repeatedly held up El Paso as an example of a place where medicine is practiced correctly.
See Related Content
Interactive map:
2007 Medicare Reimbursements Per Enrollee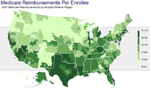 The study analyzed claims from 65,701 Blue Cross members in McAllen's Hildago County and 66,657 members in El Paso. Blue Cross spent $2,266 on the average McAllen enrollee, compared to $2,428 on the average El Paso enrollee. (By contrast, Medicare spent an average of $14,817 per patient in McAllen — 86 percent above the $7,947 it spent on an average El Paso enrollee, according to the study.)
But Gawande wrote that he asked two companies that analyze commercial insurance data whether it tracked Medicare spending, "the answer was yes." He added, "Compared with patients in El Paso and nationwide, patients in McAllen got more of pretty much everything-more diagnostic testing, more hospital treatment, more surgery, more home care."
Writing about the new study on his New Yorker blog, Gawande expressed less confidence in his private insurance data. "The samples were small, with much less detail than Medicare provides, and I wasn't permitted to know anything about the employers included," he wrote.
The authors of the new study-Luisa Franzini, Osama Mikhail and Jonathan Skinner, a Dartmouth researcher who helped Gawande analyze McAllen – say a private insurer like Blue Cross may be better than Medicare in clamping down on excessive use of medical services. "In some sense it's even worse for the doctors in McAllen if they only do it for Medicare patients," Skinner said by phone. "It's 'I will bill this insurance program – Medicare – for lots of stuff, but I won't bill this other insurance program because I know they'll come after me.'"
The study found that for one age group of Blue Cross patients-those between 50 and 64 – spending on McAllen patients was 23 percent more than on El Paso patients. Mikhail speculates that Blue Cross may not be as effective in clamping down on unnecessary procedures for this older group as the "gray zone" of what's appropriate gets cloudier.
"What we're saying is not in contrast with what Gawande found," Franzini says. "But in this case, where there is pressure for over-utilization, private insurance companies in general may be better able to control it than Medicare."
More research is coming: the Institute of Medicine is digging into the topic of geographic variation in health care spending. Some researchers like Paul Ginsburg have already found places like San Francisco where hospital prices are abnormally high. (And not just in the Haight, for those old enough to remember the '60s.)