SAN FRANCISCO — As uninsured Californians head into a new era of health coverage, they're worried about costs and unaware of the help they'll get from the government, a new survey finds.
The survey, by the Kaiser Family Foundation, found that three out of four Californians who earn modest incomes and could buy government-subsidized private coverage believe, wrongly, that they're not eligible for federal assistance or they simply don't know if they qualify.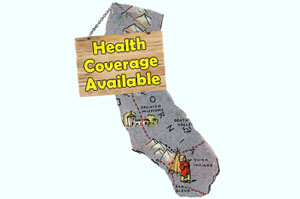 In addition, many undocumented immigrants, who comprise about a fifth of the state's uninsured population, erroneously believe they will be eligible for coverage. The law specifically bars them from getting coverage from the state's new health insurance exchange, which opens Oct. 1, for coverage beginning Jan.1, 2014.
"This has been, for so long, a political debate," said Anthony Wright, executive director of Health Access, a Sacramento-based consumer advocacy group. "We're just starting to move it into a practical reality. Now that the benefits are close at hand, there is a concerted effort to educate people about what their benefits are."
California is one of two dozen states preparing to dramatically expand Medicaid, the federal-state insurance program for the poor, yet the survey found only half of newly eligible low-income Californians presume they will qualify. The nonpartisan Kaiser Family Foundation surveyed some 2,000 uninsured Californians from mid-July until the end of August, a summertime lull before a burst of planned advertising and outreach efforts. (Kaiser Health News is an editorially independent program of the Foundation.)
"There is a lot of confusion about the messaging in the news and at the federal level," said Sonya Vasquez, policy director for Community Health Councils, a Los Angeles-based group that is part of a statewide enrollment effort getting underway in the Golden State. "With the enrollment program, that is going to shift."
The cost of health coverage will likely be a key factor in the law's adoption: the survey found 57 percent of California's uninsured say they have little financial security, and 64 percent report forgoing needed medical care because of cost, including skipping recommended treatments and leaving prescriptions unfilled.
"Having health insurance is important, but economically it was not possible," said survey respondent Lissette Melgar, 46, who has been uninsured since her divorce five years ago. "I began to have a pain in my back, and I need health insurance for this." Melgar, who lives in Tracy, Calif., and will likely qualify for Medicaid given her low income, said, in Spanish, that she understands the health care system is changing, "but [I] don't know how."
The state's health insurance marketplace, Covered California, began airing television advertisements in several small markets earlier this month, and expects to be on the airwaves in major markets, like Los Angeles, in October. Anxiety over the cost of coverage "reminds us that we have to push forward on the message that the plans are affordable," Vasquez said, "and some people may not have to pay hardly anything, if at all" if they qualify for subsidies.
Health policy experts were buoyed by the uninsured's strong desire for coverage: eight in ten of those eligible under the Affordable Care Act's coverage expansion feel they need health insurance and 57 percent believe health insurance is worth the money. "That tells me that people do value health coverage and will take action to get themselves covered if it's affordable," said Michael Cousineau, a professor of Family Medicine and Preventive Medicine at the Keck School of Medicine at the University of Southern California. "I just don't think it's going to happen overnight."
Undocumented immigrants have misplaced expectations of the Affordable Care Act, according to the survey. The law specifically forbids illegal immigrants from buying insurance in the state exchanges, and they are already barred from enrolling in Medicaid. Yet the survey found 49 percent believe they may qualify for Medicaid and 43 percent expect to shop for coverage on the exchange.
Sindi Duarte, an undocumented immigrant who lives in Antioch, Calif., has not seen any ads about the coverage expansion. "I don't know much about it," said Duarte, 19, who was born in Guatemala and entered the United States with her parents when she was 2. She recently received a permit to remain in the U.S. under an immigration policy adopted last June by President Barack Obama, and in April was diagnosed with multiple sclerosis. She is receiving some care for her condition, but has no health insurance. She is uncertain if the law will help her. "I thought I was [eligible for insurance], but I'm not completely sure."
The survey is unusual in that the foundation expects to track the same pool of people, who are entering the open enrollment period uninsured, for as long as two years to assess the effectiveness of the state's Medicaid expansion and Covered California, the new insurance marketplace meant to ease the burden of buying health coverage.
"Only through a poll like this can we see what Obamacare means for real people," said Mollyann Brodie, director of public opinion and survey research at the foundation. "Is it impacting their lives? Is it helping or not? What's working and not working about the law?"