Updated on Oct. 13 at 9:35 a.m.
Just hours after posting it Monday, the Food and Drug Administration removed from its website a list of hospitals and doctors that had received products from the compounding pharmacy now at the center of the fungal meningitis outbreak, saying data may be incorrect.
The agency said it is working to correct the list and will repost once it is completed. Data had been supplied to the agency by the pharmacy, the New England Compounding Center in Massachusetts.
The original list included more than 1,000 hospitals, clinics and doctors nationwide, including some well-known facilities such as Brigham & Women's, Beth Israel, the Mayo Clinic Health System, Children's Hospital Boston and the Dana Farber Cancer Institute.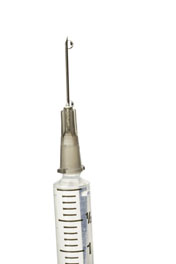 Contaminated steroid injections shipped from the New England Compounding Center are suspected in the meningitis outbreak that has been linked to 23 deaths nationwide. A second list on the FDA website detailed the many different types of medications shipped and has also been removed.
Hundreds of surgical centers, doctor's offices and hospitals are named as recipients, illustrating the wide reach of the products shipped since May 21 by the pharmacy.
Federal law allows compounding, but generally only to fill individual prescriptions for products that are not commercially available. The FDA, however, has warned some pharmacies during the past decade that their efforts have crossed into mass production, sometimes of products that are made by commercial drug manufacturers.